A rare white tea produced from old tea tree grown at natural farming garden located at high mountain. Every twig of tea leaf is hand-picked in spring. Tea was produced in 2019 spring, and compressed into tea cake, and then it was store in Malaysia weather since 2019. Tea has been aged well and it developed a sweet aroma like dried fruits, with a smooth taste and long-lasting aftertaste. 
Some people might think that loose tea ages faster than the compressed tea cake. In fact it's the opposite. During compression, the tea leaves are steamed and then bagged with a cloth bag, and manually compressed into a disc, then it is naturally dried. White tea is a lightly-fermented tea, which no heat was applied during the whole withering process. So, the enzymes is still active. During the initial heating stage, the enzymes are activated and the secondary fermentation took place. Thus, the compressed white tea cake ages faster than loose tea, and even faster than raw pu-erh tea cake. Due to the white tea cake ages well, no doubt that the white tea is becoming more popular among tea drinkers.
Perhaps some people might find it's difficult to deal with a tea cake to cut it into small pieces before brewing. No worry, you can always request us to cut it into smaller pieces. Tea will be vacuum-sealed with deoxidizer in an aluminum zipper bag. Do feel free to drop us a message for the request.

We made special white tea, Bai Mu Dan, using tea collected from old tea trees which naturally grown at very high elevation in Yunnan.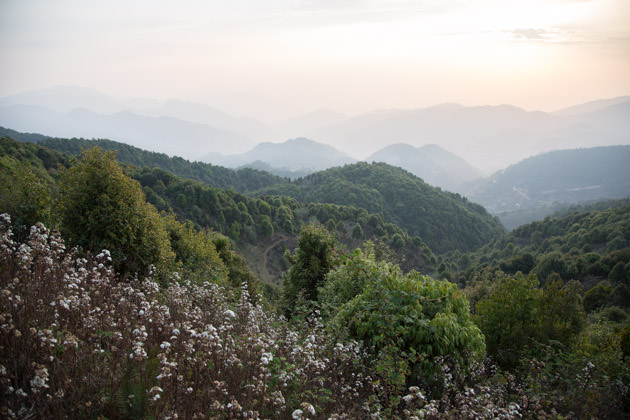 Scenery of where we collected tea
We have chosen Yunnan tea for making white tea
In China, the Fuding county of Fujian province is the biggest production area of white tea. In recent years, due to the increasing demand of white tea, the price of Fuding tea has been over speculated. In the last 10 years, the price of white tea has increased more than 10 times. This situation was triggered because of the trend of aging the white tea for further maturation like the pu-erh tea. As the price goes higher, more and more tea gardens start using fertilizers. Eventually the taste of tea becomes lighter and less long-lasting.
Under the circumstances, we wanted to find the alternative source of white tea. Throughout our years of tea expedition, we noticed that Yunnan was the ideal place to find the tea with excellent quality.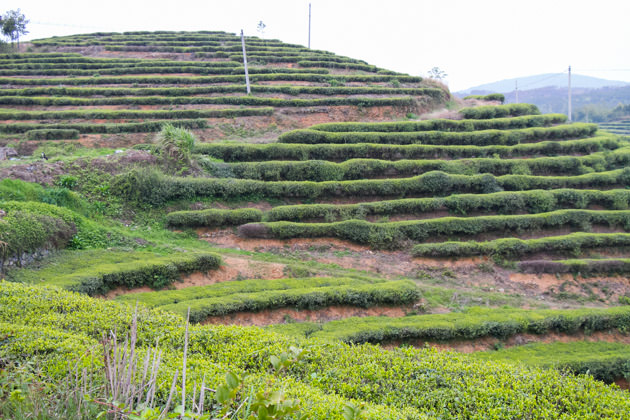 This is the ordinary tea garden in Fuding county
Quality material is a key for the quality of white tea
In Yunnan, there are a number of old tea trees grown at high altitude. However, not all tea gardens practice traditional farming method. In particular, those renowned tea production areas often follow the modern agricultural method. The tea trees are trimmed and grown with fertilizer to make a better output. Eventually, tea quality decreased. Only if we are willing to spend a lot of time exploring around and searching for the garden, we can possibly find the ideal material from the tea gardens with completely natural-farming style (without any fertilizer or pesticide), and some of the very old tea trees that grow as high as two storeys building.
We particularly looked for the garden that is completely free from fertilizer and pesticide. In fact, we are not only concern about the chemical fertilizer but also avoiding any types of fertilizer including the organic fertilizer. The organic garden sounds nice but it does not give the good effect to the tea quality because once fertilizer is used, the growing speed of tea tree becomes faster and the quality decreases.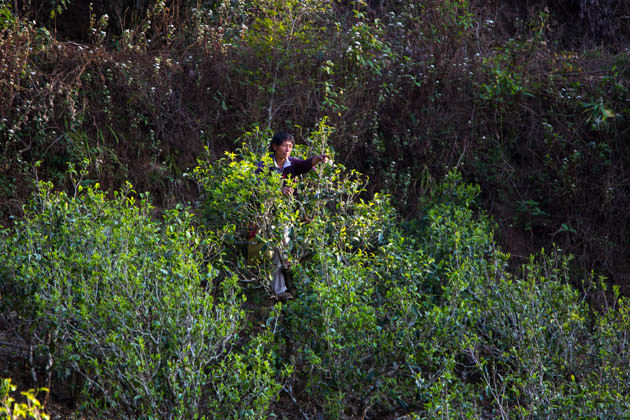 Process of making tea is often uncertain in Yunnan
Although the quality of the fresh tea leaf is outstanding in Yunnan, the management of the process remains uncertain. In Yunnan, the process is generally not well-managed. In particular, the more remote place we go, the higher the quality of material but lesser attention is paid on process.
Many people often think that making white tea is very simple and it is nothing special but just drying the fresh tea leaf under the shade. The fact is without proper management in process, the tea leaf easily turns black. There are many crucial factors affecting the quality of the white tea, e.g., the temperature of withering process, ventilation, the thickness of tea leaves and etc. Once tea leaf turns dark, it develops specific flavor reminiscent of dried black fungus or mushroom.
Now we are able to produce white tea by ourselves
About three years ago, we have decided to shift the production of loose white tea to Yunnan. Spending a few years' time, we have searched for the ideal source of material and conducted series of experiment to optimize the process. We studied each processing parameter and optimized each step of the process.
Now our strength is that we are able to produce the white tea by ourselves with the material we particularly selected and follow the quality standard we set. So, we do not need to depends on the manufacturer who normally targeted the mass production for commercial market.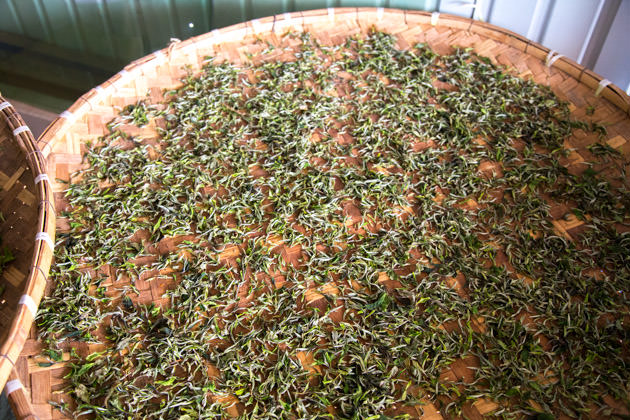 Naturally-grown tea from very high altitude
We selected one bud and one leaf from tea trees grown at high mountain around 2100m in the South West of Lincang, Yunnan. We waited until end of April to get this tea because we particularly wanted the tea leaf from old tea trees. The first plucking of these teas was only available late in April till May.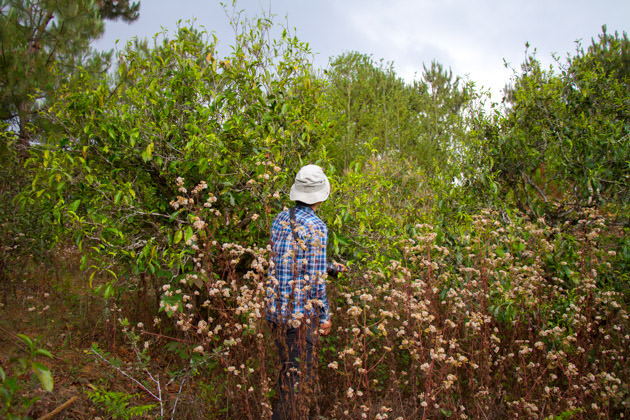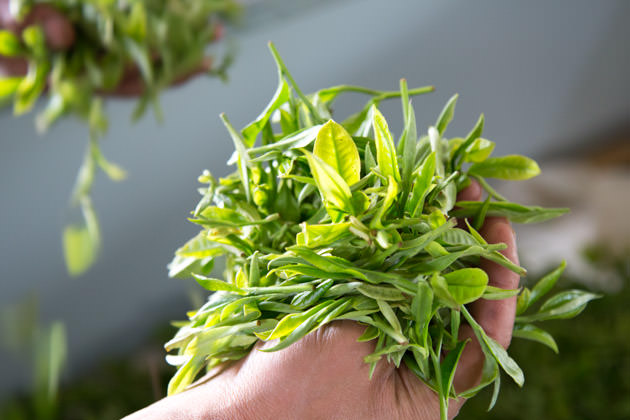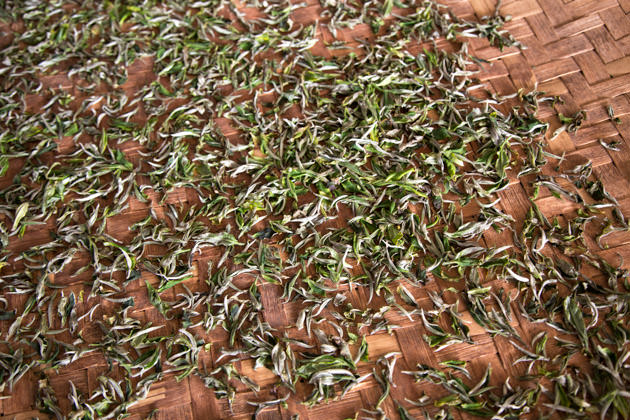 No heat is used for making Bai Mu Dan
There are a few styles in making white tea. In Fujian, the white tea undergoes the final drying process with hot air in order to bring up the sweet scent and at the same time, to reduce the greenish note. However, we wish to minimize the usage of heat so as to maximize its natural floral bouquet. Therefore, our Bai Mu Dan only undergoes natural withering process without further heating. It gives multi-layer of refreshing floral note with soft and smooth drinking sensation.
We recommend our Bai Mu Dan not only for the customer who likes white tea but also for those who has never tried white tea. This tea performs excellently not only brewing in hot water but also in cold water.