A rare type of tea made from Purple Tea grown in natural farming garden located at high mountain of Yunnan.

Unlike ordinary raw pu-erh tea, this Purple Tea gives a pleasant and unique dried fruity flavor like raisins or dried apricots with a hint of raw honey-like aroma. It has a very clear and clean drinking sensation and deep aftertaste. As tea is made from natural farming garden, it grows slowly, and accumulated high minerals and tea substances, and the tea taste is not bitter or astringent; it is like drinking vintage oolong tea.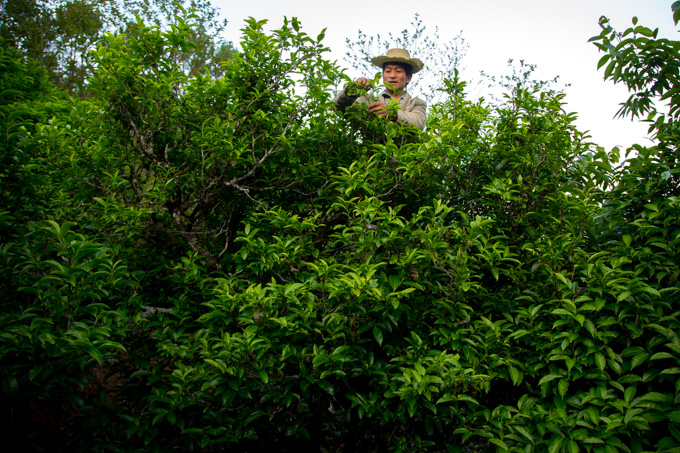 This is purple tea produced from Da Cha Lin tea garden.
Relatively, the age of purple tea tree is younger than standard Da Cha Lin tea garden. Therefore, the intensity of aftertaste is not as strong as standard Da Cha Lin. Nevertheless, amazingly Da Cha Lin Purple Tea gives the flavour like Phoenix Dan Cong oolong. I felt that the flavour of Da Cha Lin Pu-erh tea is similar to the Lao Cong Phoenix Jiang Hua Xiang or Xin Ren Xiang. It gives a sweet and elegant floral flavour. If I blindly taste this tea, I would not think it is a pu-erh tea.
As Great aftertaste as Single Tree Tea
Da Cha Lin is one of the tea gardens owned by my manufacturer. The tea garden is located at about 2100m above sea level. This particular tea garden consists of huge ancient tea trees that really overwhelmed me when I saw it for the first time. Because of outstanding number of huge tea trees, locals in the village call it Da Cha Lin.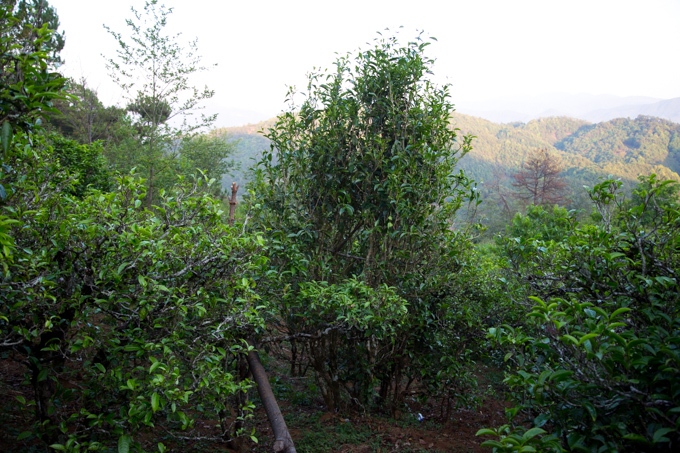 Da Cha Lin Tea Garden
As a common practice in Yunnan, each generation of farmer plants tea tree. They care not only their own life but also the future of their children and grandchildren. So, most of so-called Ancient Tea Garden in Yunnan generally consists of various ages of trees. However, most of tea trees in Da Cha Lin are very old. Since long ago, this garden has been saturated with ancient tea trees and no more space for growing young tea tree.
Oolong Tea plucking standard
During tea season, tea starts growing at different timing, yet it is quite common that every tea manufacturer faced the problem of manpower shortage. My tea manufacturer usually has six people from their relatives. In 2019, it was a very strange year that all teas started to grow at the same timing. As a result, it was impossible to collect teas from all tea trees that they owned. Needless to say, it was not possible to get others to participate in tea plucking for them since everyone else are facing the same situation. In particular, Da Cha Lin consists of so many huge tea trees. They were obviously not catching up. As a result, many ancient tea trees were left unattended and unplucked.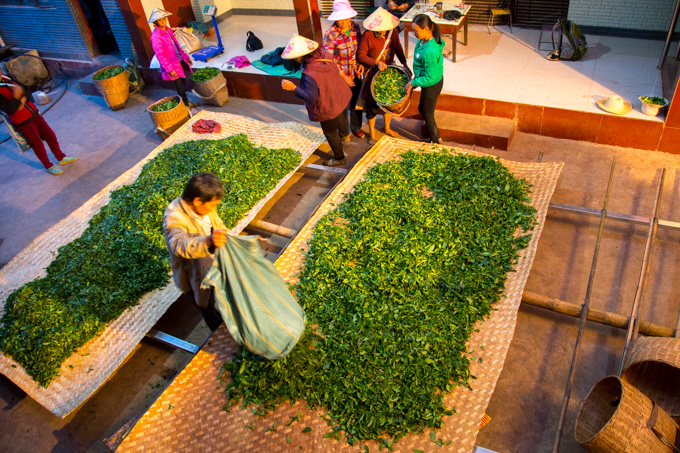 I felt it was such a waste to just let-go of these teas. Although the right timing was over, still, it is the first flush tea in spring.
In fact, the size of tea leaves is still not too big. It was just about the size of oolong tea standard. Tea leaf is still tender even though it has grown up slightly bigger. Moreover, whatever tea trees left unplucked were particularly huge trees that were originally meant to be processed into the Single Tree Tea.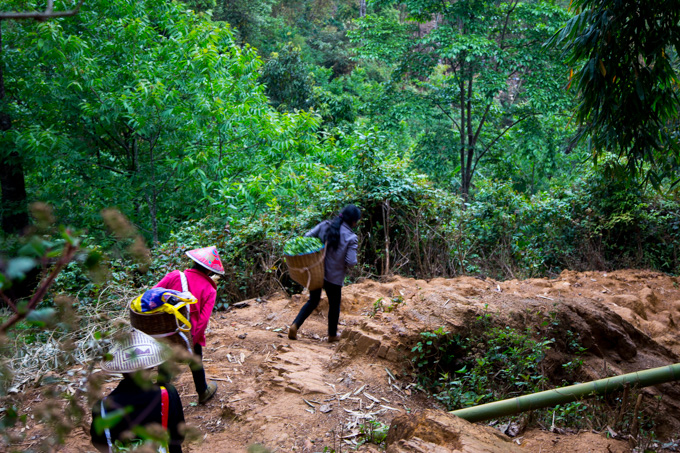 Since these tea trees were originally meant for the single tea tree, its taste was simply great. We felt we should not leave it behind. So, we decided to process them into pu-erh tea.
The rich and complex taste despite late plucking
Generally, the late-plucked tea has larger bulk density. So, it is much harder to carry out pan-frying as tea leaf is unable to trap sufficient steam. This is the reason that most of the late-plucked teas is fried at too high temperature and the freshness is spoiled. We studied the loading quantity and temperature to optimize the parameter for pan-frying. As a result, we managed to achieve the ideal taste and flavour. When tea was just produced, it was like oolong tea. The taste was very clear and refreshing, and the flavour was like orchids. After keeping for some time, now the flavour became sweet grassy note with sugar cane flavour. Da Cha Lin is very rich in poly phenols and minerals. So, tea ages fast and well. It develops more sweet fruity flavour after aging.