This tea was produced in 2020, but when it was brought in as a new tea, it had a slightly coarse drinking sensation. So, we decided to age it for some time. After aging it in Malaysia for more than two years, the aroma and taste were well-developed and stabilized.
It gives an overwhelming
strength of aftertaste that is up to the level of single tree pu-erh tea (so called the Dan Zhu raw pu-erh).

Great aftertaste as Single Tree Tea
Da Cha Lin is one of the tea gardens owned by my manufacturer. The tea garden is located at about 2100m above sea level. This particular tea garden consists of huge ancient tea trees that really overwhelmed me when I saw it for the first time. Because of outstanding number of huge tea trees, locals in the village call it Da Cha Lin.
Tea trees are grown without fertilizer, and no pesticide, and no pruning of tea tree.  So tea took a much longer time to grow and it accumulates more minerals which is clearly reflected by its long-lasting finishing and clear taste.
This tea has a
sweet grassy note and sugar cane flavour. As tea is made from very old tea trees, it gives very deep aftertaste that lingers down the throat for a long time over many brewing. Tea has a smooth drinking sensation, and no bitterness or astringent. It's suitable as a daily drinking tea.
It is made from tea trees that age is a few hundred years old. It gives magnificent level of aftertaste up to the extent of Single Tree Tea, which is regarded as the high-grade pu-erh tea. Usually, the strength of richness is an indicator of quality, and tea with a rich taste and strong aftertaste is traded at a very high price. However, the price of Da Cha Lin is half of single tree tea, and judging by its strong aftertaste, it is a very cost-effective tea.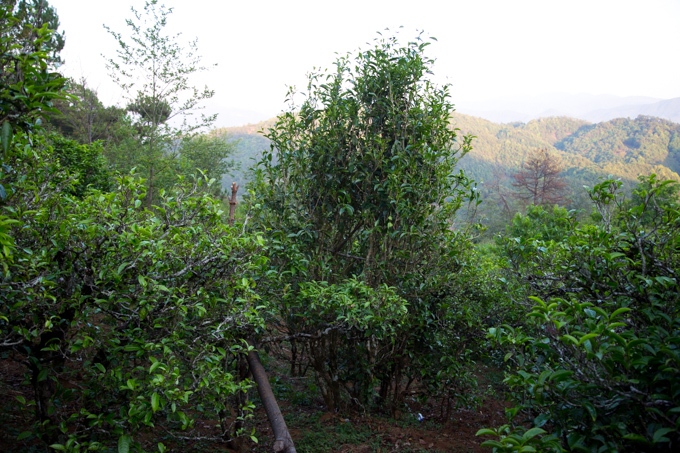 Da Cha Lin Tea Garden
As a common practice in Yunnan, each generation of farmer plants tea tree. They care not only their own life but also the future of their children and grandchildren. So, most of so-called Ancient Tea Garden in Yunnan generally consists of various ages of trees. However, the great thing about Da Cha Lin is that most of tea trees in Da Cha Lin are very old. Any tea tree is a big tea tree that we would like to process it into single tree tea.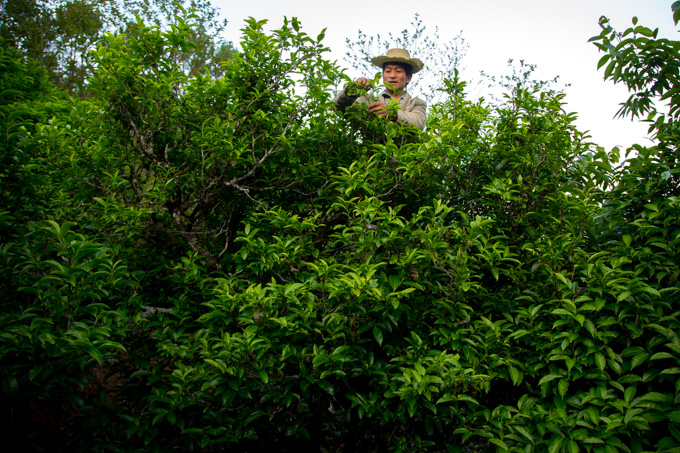 Relationship between tree age and tea quality
In general, the age of tea trees is proportional to the quality of tea, it means that the older the tea tree the higher the quality of tea.
The fact is, only if all other conditions being the same, then the older the tree, the stronger the flavor and aroma of the tea. Older trees grow very slowly and the plucking timing of fresh tealeaf are two weeks or more later than younger tea trees in the same area. As tea grows slowly, it has smaller cells, which makes the tealeaf rich in substances and minerals. This is clearly reflected in its long-lasting finishing and complexity in taste.

The reason why you can purchase this high-quality tea at a lower price

The Da Cha Lin tea garden stands out in the southwestern part of Lincang in terms of number of old tea trees. However, these huge number of big tea trees are not easy for plucking, so the tea plucking is chronically delayed every year. This is because in tea production areas, the harvest time will be at the same timing in every house, so there will be a sudden shortage of people who can pluck the fresh tea leaves. As for my producer, he has a team of 5-6 people picking tea, they are all relatives. Others in the village are busy with their own tea gardens, so it is inevitable that there will be a shortage of workers during peak season. Due to these circumstances, they do not have time to harvest fresh tealeaf from each single tea tree. Harvesting is usually done in batches and the fresh tealeaf from several tea trees is gathered, which is why we were able to procure at a low price, even though it was made from a single tree tea.