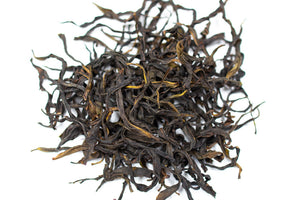 Dong Fang Hong is the name of a tea that was presented to Mao Zedong. The "Hong" in Dong Fang Hong means red, symbolizing communism.
During the Cultural Revolution, it became popular as a song that praised Mao Zedong and the Communist Party, similar to a national anthem. The original tea tree that was presented to Mao Zedong has withered in recent years, and this product is made from tea trees propagated from the original mother tree. This tea is finished through a process called "double firing," where it is roasted twice with traditional charcoal fire. It gives off a significantly floral scent, reminiscent of gardenia, lilac, and lily flowers.
In 2022, generally there was abundant rainfall in tea-producing regions overall. Surprisingly, the period before the harvest of this Lao Cong Dan Cong had less rain than expected, resulting in a pleasantly strong aroma. It has been quite astonishing.