In the case of Phoenix Oolong tea, teas with a rich and vibrant aroma are categorized as single bush "Dan Cong", while teas with a more subtle aroma due to factors such as age and weather conditions are classified and sold as "Shui Xian" or "Lang Cai (浪菜)."
At HOJO, we specifically select and sell teas made from seed-grown tea trees, particularly those aged above 80 years.
The distinctive feature of this Lao Cong Shui Xian is undoubtedly its exceptionally long-lasting finishing and deep aftertaste, which cannot be obtained from Dan Cong teas in the same price range.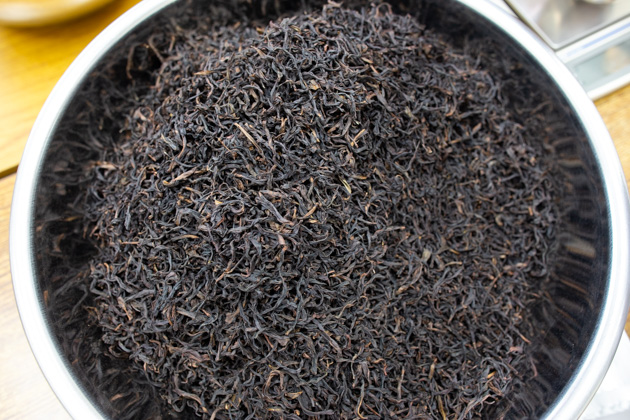 Roasted tea is commonly found in Chinese and Taiwanese teas, and it is crucial to avoid burning during the roasting process. In recent years, many tea producers, particularly in regions like Wuyi Mountain, have increased the roasting temperature. They intentionally scorch the surface of the tea through one or two rounds of roasting, promoting it as "charcoal roasting."
When tea is roasted at a certain temperature or higher, its components undergo heat oxidation and simultaneously burn. Tea roasted at high temperatures loses its unique characteristics, and the burnt scent overpowers the aroma of the tea.
Ideally, tea roasting should be conducted at a lower temperature to prevent burning. However, at lower temperatures, the aroma change during each round of roasting is gradual. Therefore, by conducting multiple rounds of roasting, the tea develops into a sweet and mature aroma.
Regarding this specific Shui Xian tea, it is intriguing that it undergoes a finishing process known as "fourth firing" or "fourth roast." This refers to roasting the tea with charcoal four times. The four rounds of roasting are not performed in a short period; instead, the tea is aged for several months after each round to redistribute moisture. The entire process takes around a year to complete.
Due to the laborious roasting process, this tea exhibits a unique sweet aroma reminiscent of dried fruits, caramel, and whiskey.