Wild Spring Bud raw pu-erh: it is the loose tea buds harvested from the wild tree at Da Xue Shan area. Every tea bud is hand-picked in March. It gives a dried fruity note like dried longan or raisins with a hint of jujube flavor and woodsy undertone reminiscent of wild forest lingering on palate. Tea is not bitter or astringent at all. It has a smooth drinking sensation that lasts for many brewing.

The native tea collected from the mountain
The Wild Spring Bud is literally the wild tea that is naturally grown in the native forest. It is not referring to the tea tree that age is like 500 years old or 1000 years old. The wild tea means native plant in the forest.
Our wild spring bud is harvested from Da Xue Shan area in Lincang city. The tea processed from the first flush of young buds plucked in March is named as Wild Spring Bud and the tea processed from 1 bud and 2 leaves is named as Da Xue Shan Wild Tea.
Da Xue Shan, Wu Laing Shan and Ai Lao Shan, the major production area of Wild Tea
The wild tea exists not only in Da Xue Shan but also in Wu Liang Shan and Ai Lao Shan, and some are found at the border to Myanmar. As far as I have experienced, generally the wild tea from Wu Liang Shan gives lighter taste in terms of body and after taste and the one from Ai Lao Shan gives the least after taste with slight bitterness. As for the wild tea from Da Xue Shan, it gives strongest after taste and body in general. However, some of the Da Xue Shan wild tea gives bitter taste too. We selected the tea that gives no bitterness.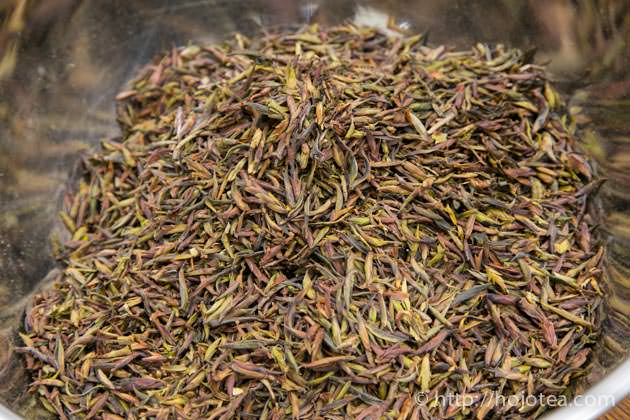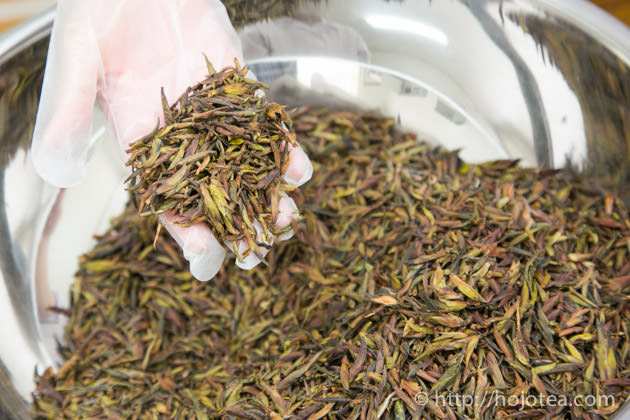 Camellia Taliensis
In fact, there are many types of wild tea available in Yunnan. The wild tea is not only the tea made from Camellia sinensis but also it consists of a few other sub-species of Camellia sinensis. For example, the Da Xue Shan Wild Tea and Wild Spring Bud are made from the Camellia taliensis, which is said to be the closest species of Camellia sinensis. The Camellia taliensis is often recognized as the wild tea, and also it is found in the tea garden especially near the Myanmar border. I also saw a number of Camellia taliensis planted in the tea garden when I visited Myanmar before. The tea made from Camellia taliensis was traditionally drunk by the minority people.
Clear fruity flavor
The flavor of the Wild Spring Bud is very sweet and clear that reminds us of grapes or green apple. The body of this tea is moderate since it only consists of the spring buds. Instead, it gives a very clear and transparency flavor with lingering sweetish taste on our palate for a long time after drinking.