This tea has a dried fruity note like raisin or figs with a creamy and soft drinking sensation and long-lasting sweetness.
Tea cake is suitable for long-term storage. It's delicious to drink while it's freshly produced, and, I think it's interesting to enjoy the changes as it ages. Many people might not know that actually white tea matures faster than Pu-erh tea, so you can enjoy the transformation of the aroma at a faster tempo. This tea is nice to brew with cold water too.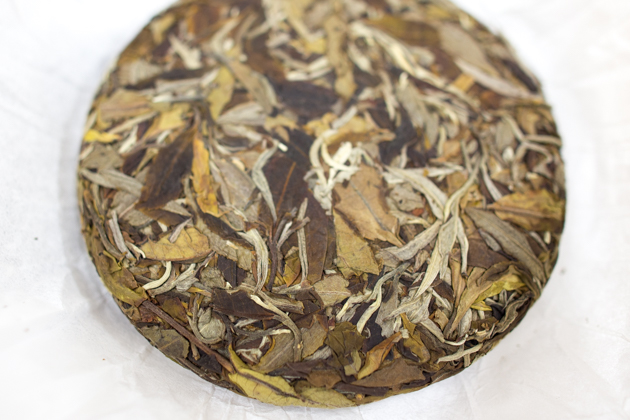 This tea comes from the natural-farming garden in Wu Liang Mountain, which is located in the southwestern part of Yunnan Province. By devising the processing method, we have made an interesting tea that is different from the conventional white tea. The taste and aroma is very unique, and it is highly recommended not only for white tea fans but also for Pu-erh tea enthusiasts.
Tea is harvested from old trees grown at high altitude

In 2018, while I stayed in Yunnan for two months, I have attended the production of this white tea. This product was made under my supervision in spring 2018. Tea is produced in the northern part of Wu Liang Mountain, which is located in the southwestern part of Yunnan Province.
Normally the manufacturer will gather the different batches of tea produced from different locations and altitudes, and blend into a bulk production. However, experienced tea enthusiasts know that the higher the altitude, the better the quality of tea. So I specifically chose a tea plantation located at altitude of 2100-2200m. Besides, the altitude, the age of tree also has a great impact on quality. For tea trees under the same conditions, the older the tree, the slower the growth rate and the better the quality. We chose old trees (over 100-200 years old) as raw materials for Wu Liang Mountain old tree white tea. Therefore, tea leaves have a high cell density and are elastic like rubber to the touch. I empirically think that the easiest way to evaluate the quality of tea is to smell the scent of raw tea leaves. Good quality tea leaves have a sweet and strong scent reminiscent of flowers and fruits. On the contrary, low quality tea leaves have a pungent grassy plant-based scent. The raw tea leaves from Wu Liang Mountain have a very sweet scent and are like fruits.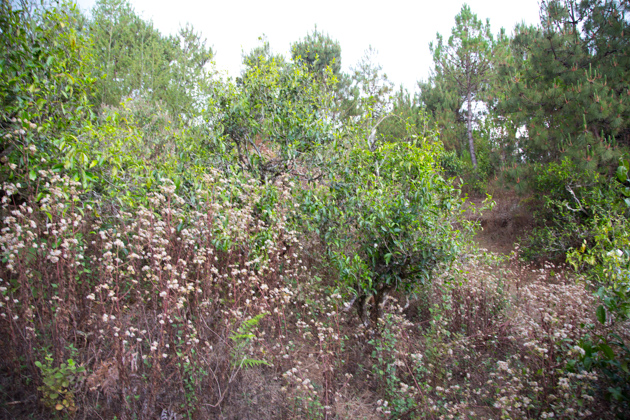 Selected the fresh tea leaves that gives strong muscatel note

In Wu Liang Mountain where the tea trees grow, the environment is almost wild, in other word, it was like a "bush". The tea tree grows naturally and surrounded by other wild trees, and because of no pesticide is used, there are many insects. Tea from such a growing environment has an identical characteristic; the tea leaves have a muscat-like scent. In China, it is described as honey scent. Tea leaves are attacked by insects such as plant-hoppers, and it will bio-synthesize substances (terpenes) that insects dislike, but strangely, this substance is the same as the scent component of fruit, and is rather good for human. The freshly-plucked tea leaves of Wu Liang Mountain also has a strong muscat scent. In addition, even after processing into white tea, the scent of Muscat (muscatel flavor) was also noticeable from the dry tea leaves. However, in order to process it into tea cake, the dry tea leaves is steamed, and at this point the scent of honey temporarily disappeared, and it became less noticeable. And interestingly, after tea is kept for a while, the honey scent will come back again. After a few years of aging, the sweet scent like dried fruit or aged wine becomes stronger.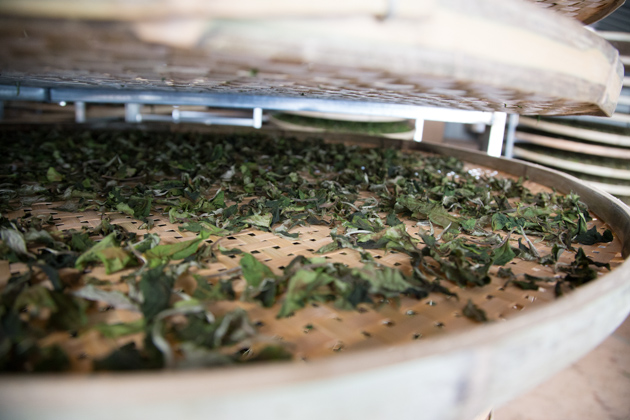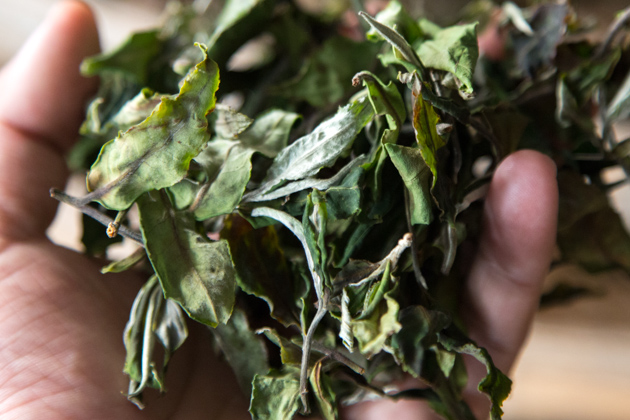 White tea has a rich aroma after aging

In recent years, it has become a boom to enjoy the aged white tea, just like Pu-erh tea. There are various aging methods, but as a result of various experiments, in order to ripen white tea most ideally, tea has to be aged in the original bag for the first few years without oxygen. (1) After that, it is recommended to open and ripen the tea to accelerate the aging, or (2) if you want to enjoy a clean and purer scent, ripen it continuously without oxygen. The important point here is to store tea in anaerobic conditions for the first few years. However, if the tea leaves are aged without oxygen for a long period of time, the aroma will be muffled, so it is necessary to promote air oxidation by exposing the tea leaves to the air for 1-2 weeks after opening the bag, in order to enhance the aroma of tea.
A smooth taste was created by making tea cake using a natural drying method, which is rare for white tea
Wu Liang Shan White Tea is compressed into round tea cake. Although it is not well-known, various conditions of compression work have a great influence on the basic quality such as the aroma and taste of Pu-erh tea, white tea and other tea cakes. Therefore, it is necessary to pay close attention to the steaming method and drying method as well as the selection of the compression company. The work flow is to apply steam to soften the tea leaves and then pressurized it to form a disc shape. Since the compressed tea cake contains a lot of moisture, it is necessary to dry it for several days until it returns to the same water content as the original tea leaves. There are various drying methods such as hot air, low temperature hot air, sunshine-drying, and indoor drying. For drying white tea, hot air drying at a lower temperature is a common method. In the case of white tea with live enzymes, it is better to dry it with hot air to maintain a gorgeous flower-like scent. However, this time, when I processed Wu Liang Shan white tea into tea cake, I dared to choose indoor natural drying method. By using this method, a small amount of enzymatic fermentation occurs during the drying period. This fermentation changes the taste of the tea more smoothly. Since from the beginning we had planned to conduct natural drying, during the withering process only a slight fermentation is proceeded, and further fermentation is conducted during drying. By introducing this method, we have made a white tea with a taste and scent that is quite different from conventional white tea.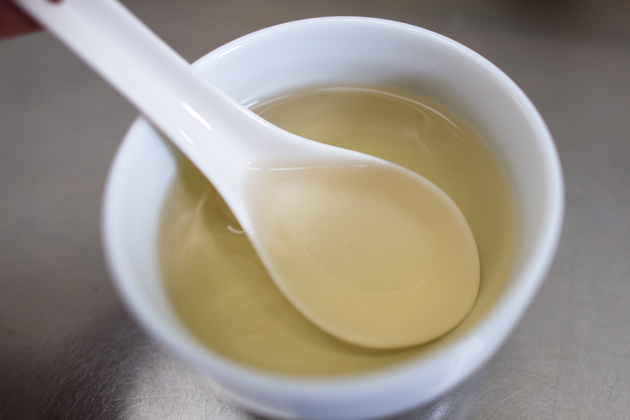 The fruity scents followed by floral scents on finishing

Starts with the scent of fruits and changes to the scent of flowers

The smooth and gentle drinking sensation is very similar to Pu-erh tea, but the scent that lingers after drinking is like fine oolong tea. On first sip, it has a fruity scent reminiscent of dry apricots, prunes, grapes, dried persimmons, etc., and after you finish drinking, a floral scent rises from your throat and you can enjoy the lingering aftertaste of the scent for a while. As for the taste, it has a rich and thick taste with strong aftertaste. I think it is a very lovable tea with a good balance of aroma and taste. Personally, I would definitely recommend this tea not only to white tea fans but also to Pu-erh tea fans.