Tea is full body, with thick and long-lasting taste. Tea was produced from old tea trees grown at high mountain. It was kept for aging in Malaysia since 2012. Tea is well-aged, no musty flavor. It has a clean nutty note like toasted bean with a hint of woodsy flavor, with a comfortable penetrating taste lingering on palate. It is an everyday drinking tea to relieve and relax after work or to enjoy during savory meal.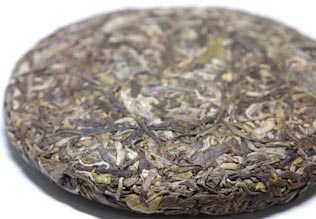 A closer look at the tea cake. It has many tea leaves that are covered with white downy hair. Tea is plucked at the end of March 2012.
Xian Su Shan is a mountain located in Lin Cang. Lin Cang is a regional city situated in South West of Yunnan.
Starting from 2011, we mainly source our pu-erh tea from Lin Cang. The reason is the infrastructure in Lin Cang remains less developed. From Lin Cang, it takes about 10 hours driving time to reach the village that produces Xian Su Shan. In the mountains, still home to many ethnic minorities, and they live a traditional lifestyle. Even today, they still follow the ancient practice of growing tea. Besides, the soil in Xian Su Shan is very rich in iron. This area is relatively dry throughout the year. Thus, tea spends a long time for growing. As a result, tea gives a complex flavor and the taste become very thick.
The tea tree in Xian Su Shan belongs to Yi race (彝族), one of the ethnic minorities in Yunnan. They are mainly dependent on the agricultural products for a living. This tea is grown and processed solely by Yi race. They use a very traditional method of making tea. The tea is fried using the wood-fired pan which has been traditionally used for generations. In fact, it is difficult to control the fire of wood-fired pan. Due to this problem, tea often gives the aroma that reminds us of wood fire. Therefore, it is necessary to use boiling water and rinse tea twice so that the flavor is more refreshing.
| | | |
| --- | --- | --- |
| | | |
| In Yunnan, old tea trees belong to ethnic minorities. | | A very old tea tree grown next to the house of minority race in Yunnan. |
Xian Su Shan raw pu-erh is made from one of the best materials we purchased in 2012. The tea gives full body and strong after taste. The lingering sweetness and the flavor stay on the throat for a long time. Tea is plucked at the end of March. Thanks to the delicacy of material, the leaf is silver-white. The flavor is like flower, grass, while slightly beany aroma.
I recognized that tea quality is extremely outstanding, yet for now its flavor is a little less appealing. However, I decided to purchase this tea because of its price is very attractive. This tea will transform into very good character with attractive honey flavor after keep it for a few years. This is the main point that I recommend this tea to my customer. For further maturation, please keep tea un-opened. Tea is vacuum-packed with oxygen absorber to eliminate oxygen and moisture from the bag. With this method, tea can be well-matured over time.
In a few years of storage at a warmer place, tea starts giving the flavor like honey.