This tea yields a fantastic drinking feeling with incredible depth of flavor and style. The moment you drink the tea, we can feel the sensation that the liquor flows smoothly and its flavor travels deep down the throat. The best moment to enjoy this tea is after drinking. Its fruity flavor and sweetness lingers for a long time on our mouth and down the throat.
This tea is grown at the mountain that is located about 10 hour's driving-distance from Lin Cang city.  The dry leaf has darker color and covered by downy hairs. That's why in Chinese language, it is called Wu Hao, means black downy hairs. However, when the tea is brewed, you will be surprised that the color of leaf turns yellow. The tea is full-bodied, with smooth aftertaste and long-lasting flavor. Tea is well-aged in Malaysia weather since 2011. After aging for many years, this tea now gives a comfortable woodsy fragrance with dried fruity note like black Chinese dates.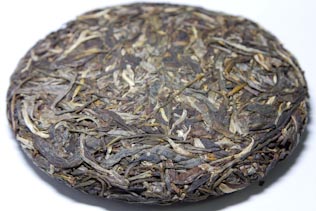 A closer look at the tea cake. It has many tea leaves that appears "black". That is why this tea is called "Wu Hao" that means black downy in Chinese. Tea is plucked early spring, at the end of March 2011.
| | | |
| --- | --- | --- |
| | | |
| In Yunnan, old tea trees belong to ethnic minorities. | | A very old tea tree grown next to the house of minority race in Yunnan. |
Pay attention to the sweet lingering aftertaste that comes from back of your throat, filling your mouth and breath with wonderful fragrance.
This tea is very rich in both minerals and polyphenols. Usually, pu-erh tea with high poly phenols content will be matured faster and better. Despite this tea is being kept for just one year, we can already feel a slight hint of honey flavor; it shows that tea started maturing in a good direction. If we keep this tea for another two to three years, the flavor of tea should be sweet and intense like honey flavor. In about five to seven years, this tea will exude a strong fruity flavor like apricot. In seven to ten years, this tea produces dry-fruity flavor like Chinese dates.
This tea is grown and processed by ethnic minorities. Tea is processed using very traditional equipment. Because of smoke generated from wood-fire, its flavor is slightly smoky. Sometimes, while sipping this tea, it might remind you of camp fire or Scotch whisky.
While I was in Yunnan, I noticed that the material used for this tea was of unprecedentedly outstanding quality. Although the tea has a hint of smokiness, I couldn't resist not having this tea in my list. I am pretty sure that this tea will turn out to be a treasure when it is kept for a few years. Since the price offered for this tea was very low, I instantaneously decided to purchase this tea.
For now, a number of customers like to drink this tea when it is fresh. Nevertheless, in one to three years' time, you will know its best characteristic. Tea has to be kept unopened in the vacuumed-sealed pack and stored in a warm place. The well-matured tea will produce unimaginably good flavor as it is of superlative quality material.