It is a raw pu-erh tea produced from a single garden called Wu Jia Ping Zhang in Wu Jia Zhai village.
The tea garden is at high altitude of around 2100m located in the southwest of Lincang, Yunnan and it is very near to the Myanmar border.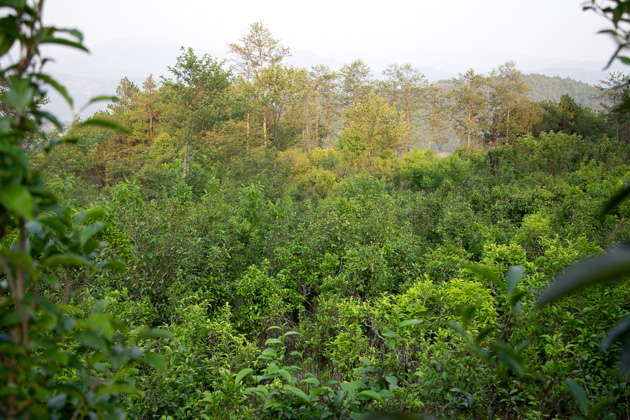 Tea from a single tea garden
This tea is from a single tea garden called Wu Jia Ping Zhang, located in the village of Wu Jia Zhai, in Yongde County, Lincang.
In Chinese, 'Zai' is a name that refers to a settlement with a smaller unit (usually about a few hundred people) than a village in Japan. There are many people with the last name of Wu, and it seems that the village was named as Wu Jia Zhai because of it was the settlement of Wu's family.
HOJO has a pu-erh raw tea called Wu Jia Zhai raw pu-erh tea. It is made of tea leaves from multiple tea gardens in Wu Jia Zhai. On the other hand, Wu Jia Ping Zhang raw pu-erh comes from one particular single tea garden. It has a very strong aftertaste because of the fresh tealeaf is collected from old tea trees, and most importantly, the tea garden is a natural farming tea garden, and no pesticide or fertilizer is used at all.

The 2021 tea uses tea leaves harvested in mid-May, which is also the first flush of the year, and it is from the same tea garden as the 2020 tea. Tea gardens in Yunnan province typically have trees of different ages growing together, as new tea trees are often planted when a new generation takes over. Wu Jia Ping Zhang tea garden is also composed of tea trees of varying ages, from around 100 years old to several hundred years old.
Younger tea trees grow faster, while older ones grow more slowly. As a result, those older and more mature tea trees start budding later in April and the first flush of the year is only available for harvesting in May. So, it consists of leaves from the older, more mature tea trees.
You might think that the older the tea tree, the better the quality of the tea. However, as the harvest season for high-aged tea falls in May, the season has progressed and the temperature has risen compared to April, causing the tea leaves to open more and reducing the ratio of buds in terms of weight. As a result, the creamy and smooth mouthfeel that is characteristic of tea harvested in April disappears, and instead the tea has a clearer and more refreshing taste with a long-lasting aftertaste.