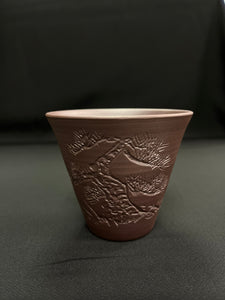 Artist : Masaki Tachi
Origin of Clay : Natural purple clay from Mie Prefecture, Japan
Packing : In a paper box

Volume : Approximately 120ml
* Because each piece is handmade, there will be slight color variance. The actual color might show a variance due to the resolution of photo on display.
* The volume indicated is an estimated volume of the tea cup. There might be some variance in actual volume.  

* The clay may show some watermarks, which is common after use.