In order to accentuate the characteristics of ancient white tea, we chose to pluck not just one bud and one leaf, but one bud and two leaves for tea production. The one bud-one leaf white downy silver needle and one bud-two leaves white peony teas have a high content of amino acids, resulting in a creamy texture when tasted. Conversely, with one bud-two leaves, the polyphenol content is higher, enhancing the tea's clarity of flavor and making its aroma more vibrant. Ancient white tea boasts a refreshing citrus-like fragrance and offers a transparent, pure taste.
Hundreds of years old tea tree
This white tea consists of 1 bud and 2-3 leaves hand-picked in spring.
It is from a natural farming tea garden, no pesticide or fertilizer is used.
The tea garden is located at high mountain around 2100m, and the average age of the tea trees is several hundred years old.
Thanks to these factors, tea grows extremely slow, tea is rich in natural minerals and it gives a clear drinking sensation, with soft and long-lasting finishing. It has a hint of delicate fruity note. Tea can be aged very well, and it will gives a dried fruity note after keeping it for some time.
In 2022, the degree of fermentation was slightly higher due to high humidity.
In making white tea, the freshly picked tea leaves are allowed to wither for about two to three days. During this withering process, enzymes are activated by dehydration stress (moisture lost from fresh tea leaf), and mild fermentation is triggered. Tea will then omits a refreshing floral scent.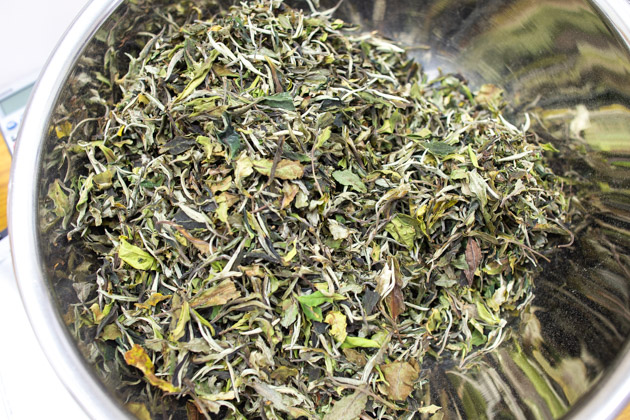 There was more rain in 2022 compared to previous year. In Yunnan Province, there are many rainy days from the beginning of April to June. With more rain, the environment is more humid.

Humidity in the environment affects the withering process of white tea. The lower the humidity, the shorter the withering time, the greener the tea leaf, and tea gives more floral scent. This year, with higher humidity, the withering process is longer, allowing the tea to ferment a bit more, and instead of the floral and glamorous top notes, tea gives a delicate fruity note. It has a different characteristics from last year's white tea. I do hope you will enjoy it as a feature of this year's white tea.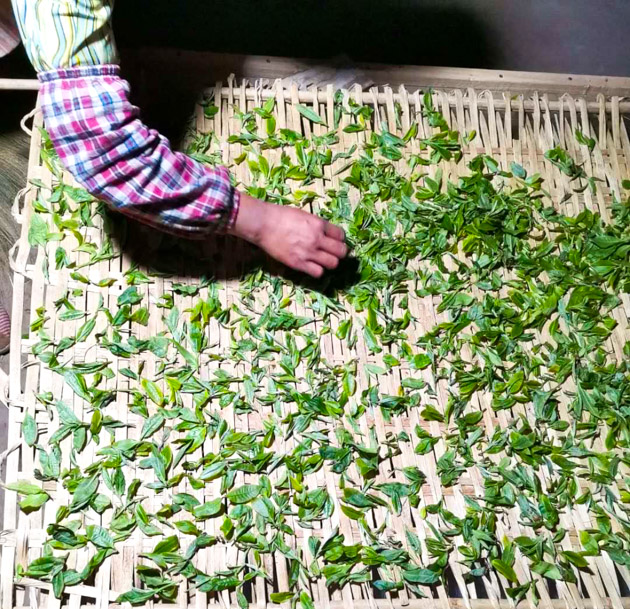 White tea taste is excellent with cold water brewing
This white tea taste  is luscious when brewed with cold water.

The reason is in making white tea, no heat is involved. So, enzymes remain. When brew it with hot water, the enzymes are activated and oxidation of tealeaf took place. People might thought that tea is brewed with hot water at temperature of 80°C or higher, so the enzymes are instantly inactivated. The fact is the core of tea stem is not heated instantly and the oxidation is initiated.
The taste and aroma of white tea brewed with hot water is a hybrid aroma of the fermented aroma produced during the brewing process and the aroma derived from the ingredients originally contained in the tea. While when brewed with cold water, the temperature of the water is too low to activate the enzymes. So, it is possible to extract only the aromatic components contained in the tea leaves, resulting in a more refreshing scent compared to white tea brewed with hot water.
Cold water brewing tips:
Use 5g of tea (approximately one tablespoon) per 1 liter of water, and leave it in the refrigerator for half a day to overnight. The water for cold brew tea will be more fragrant if you use cool water that is boiled once.