I bought the tea that was picked during the very first three days in spring tea season. This year, before the harvest of Dong Shan Raw Pu-erh Tea, the cold and dry weather continued, so the harvest was delayed. As tea trees takes longer period of time in growing, tea gives a soft and long-lasting lingering taste. It has a sweet note reminiscent of fresh chestnut. 
After aging for a few years in Malaysia weather, tea has developed a pleasant sugary flavor. It has no bitterness or astringency. It's recommended as a daily drinking tea, and for beginner in raw pu-erh tea, this tea is an easy-to-drink tea.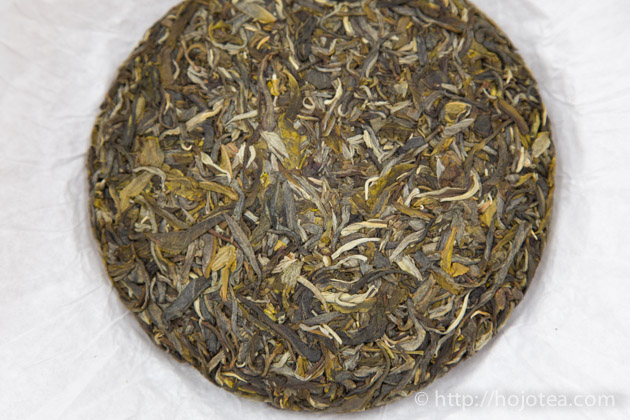 I have found Dong Shan Raw Pu-erh Tea since March 2014. This tea garden located at an altitude of 2300m in the western part of Lincang, which is geographically near Myanmar.
The characteristic of this tea is a fruity aroma reminiscent of grapes. Of course, because it is a Pu-erh tea, it does not have a strong fruity scent like oolong tea, but it has a natural sweet scent.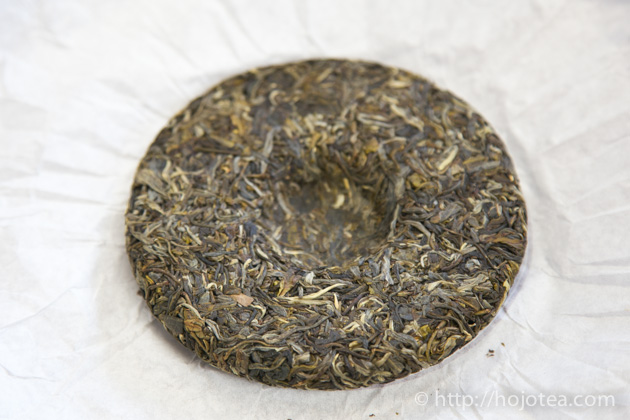 A unique scent which is identical to younger tea trees
In the case of Pu-erh tea, the older the tree, the weaker the aroma tends to be. The aroma becomes more delicate and the characteristic of tea is weakened, but the aftertaste is strong, with rich and complex taste, and the sweetness lingers down the throat for a long time.
On the other hand, tea from relatively younger tree has a unique scent like flowers and fruits, probably because it contains unique substances. When choosing tea this time, I chose this tea because I wanted to balance the strength of richness and the characteristic of the aroma by choosing a tree that is not too young and not too old, about 80-100+ years old.
Dong Shan Raw Pu-erh is made from raw materials harvested from tea trees that are about 50 to 100 years old, and it has a strong aroma.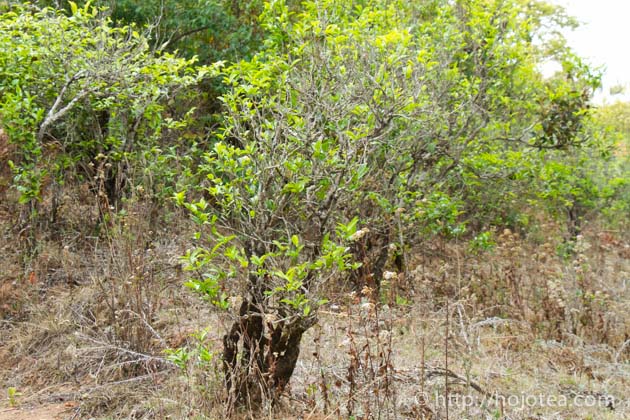 Well-processed tea that features a clear scent
Another notable thing about Dong Shan Raw Pu-erh is tea is processed very well. What does processing mean? In the case of Pu-erh tea, the most important process is the pan-frying process (Sha-qing). The aroma of tea changes greatly depending on how you manage this process.
Pan-frying deactivates enzymes by applying heat to tea leaves. People might think that the heat from the pan deactivates the enzyme, but in fact, by heating the tea leaves, steam is generated from the tea leaves, and the heat of the steam deactivates the enzyme.
For this reason, during pan-frying, a certain amount of tea leaves is required so that steam does not escape. So, it is essential to have a big frying pan to accommodate adequate amount of tea leaves. Unfortunately, many ethnic minority farmers do not own a big frying pans.
For ethnic minorities, normally they are unable to process a large amount of tea leaves. It is because of many of them are using a wok that is meant for household cooking in the kitchen. As a result, a small amount of tea leaves is fried in a frying pan, and the steam easily volatilizes, making it impossible to sufficiently Sha-qing.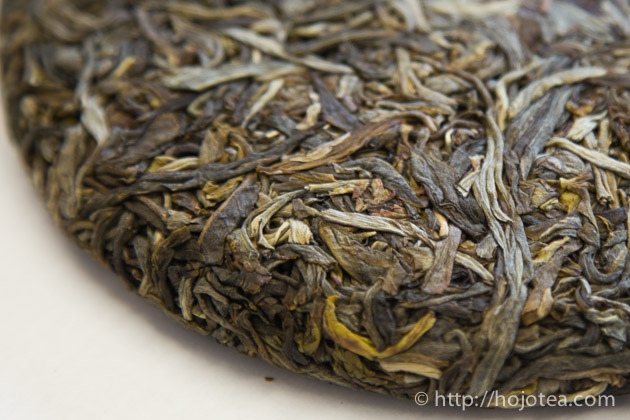 To deal with this problem, farmers generally use higher temperature, which in turn makes the tea leaves easily scorched, and it gives a toasted aroma.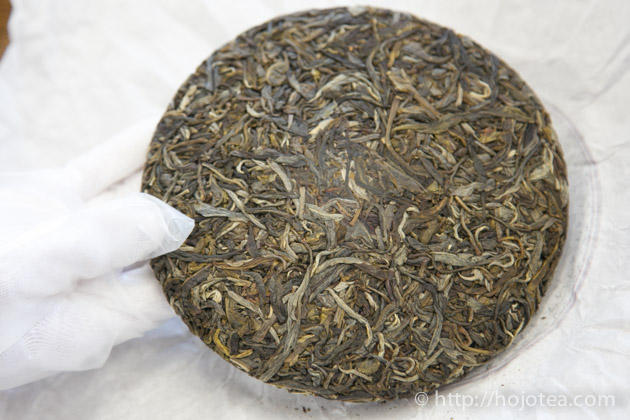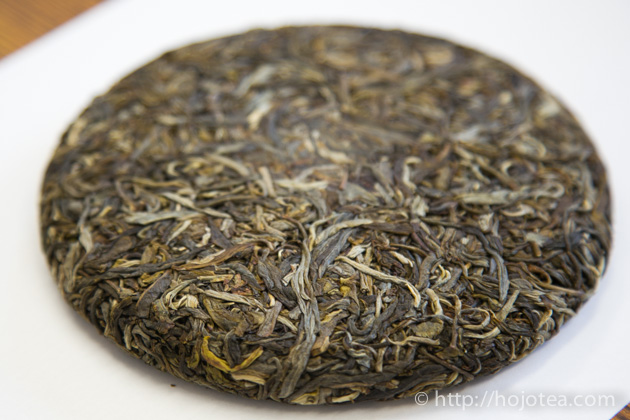 Dong Shan Raw Pu-erh is a tea made by manufacturer who has satisfactory facilities. Because the tea is processed in a large and thick frying pan, there is no scorched flavor, and the aroma of the tea substances is maximized. Furthermore, this factory is located in the middle of an ethnic minority village. The collection of the fresh tea leaves is well-managed. Thanks to the collaboration of the natural-farming tea and processing facilities, the outcome of Dong Shan Raw Pu-erh tea is satisfying.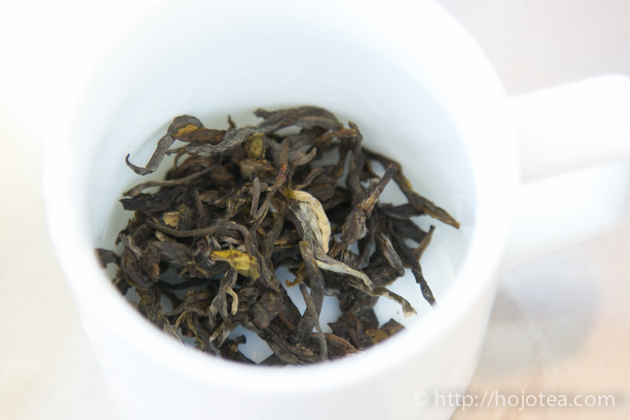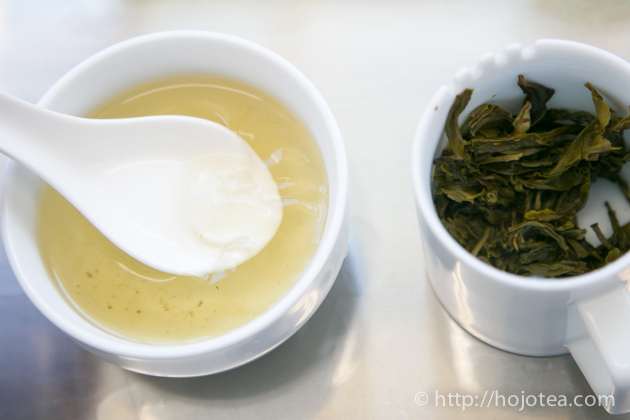 As I am always staying in Yunnan for more than a month during tea processing season, I am so used to the scent of fresh Dong Shan Raw Pu-erh tea. Nevertheless, I am addicted flavor of the aged Dong Shan Pu-erh; it has a sweet scent like raw-honey. To me, the fresh tea is more like a white tea. After aging it for several years, because it is a naturally grown tea, it has a rich taste and a medium body that is easy to drink. 
Specifically look for naturally farming tea

I think the real thrill of drinking Pu-erh tea is that you can enjoy the complex and thick taste of naturally cultivated tea at a lower price. In fact, if you ask for oolong tea, green tea, or black tea of ​​the same quality level, the price will be unimaginably high. However, not all Pu-erh teas made in Yunnan meet these requirements. In fact, more than 90% of the Pu-erh tea producing areas in Yunnan have been visited by tourists after the development of roads, and the traditional natural cultivation method that has been practiced for thousands of years was discontinued in many areas. Many of these tea gardens have shifted to a modern agricultural method that uses fertilizers and pesticides. When this happens, the tea does not have richness in taste, and yet the price rises unnecessarily. We are looking for tea with thick taste and made by natural cultivation, and so, we stay in the mountains of Yunnan for one month every year to purchase tea. If you want to buy high quality tea, you have to go to remote areas in the mountains.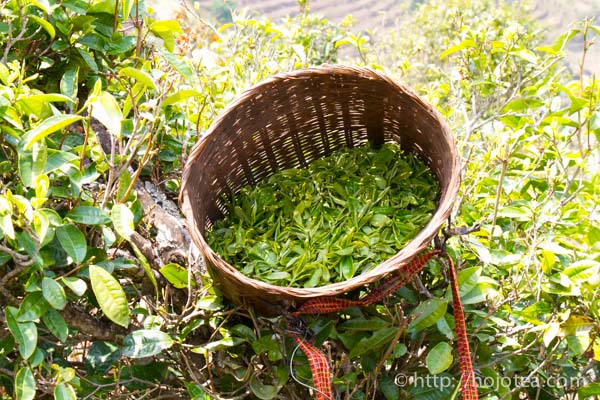 Why are tea enthusiasts crazy about Pu-erh tea?
In terms of aroma, I don't think there is any tea could gives better flavor than high quality oolong tea. Well-aged Pu-erh tea has a wonderful aroma, but the advantage of Pu-erh tea is its taste.
Talking about Pu-er tea, if the tea trees are grown without using fertilizers or pesticides, and it is made traditionally by ethnic minorities in the hinterland of Yunnan, tea has a very soft and rich taste.
Especially when it comes to tea made from a tree that grows slowly like a wild tree in nature, its sweetness and roundness in taste cannot be expressed in words.
If you ask for oolong tea of ​​the same quality level, it will be as expensive as the prize-winning tea of ​​the competition, and it will cause fatal damage to your wallet.
For Pu-erh tea, because it is made in the remote mountains, incredibly high quality tea leaves are available at much affordable prices.
For this reason, the interesting points for enjoying Pu-erh tea is its rich taste, a rich sweetness, and a soft water quality that can be transmitted through the throat.

Furthermore, for Pu-erh tea, when it is aged well, it produces a sweet aroma like raw honey, and tea must be aged in a proper way to get a sweet aroma.