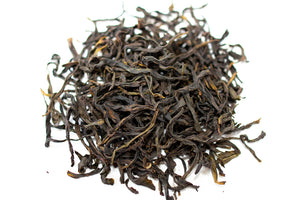 Huang Zhi Xiang is a well-known variety of Dan Cong tea within the Phoenix category. The name "Huang Zhi Xiang" derives from its fragrance, which resembles that of gardenia flowers. However, even within the Huang Zhi Xiang category, there are multiple cultivars. "Shi Tou Huang Zhi Xiang" refers to a specific cultivar, named after the location where the mother tree is cultivated, known as Shi Tou. Additionally, sometimes the names of cultivars include the tea tree owner's name, such as "Jia Chang Huang Zhi Xiang."
"Phoenix Dan Cong Lao Cong Huang Zhi Xiang 2022" is meticulously crafted from tea trees that are approximately 80 years old, thriving at an elevation of 1200 meters within Wu Dong Mountain, at Guizhu Lake Village.
The aroma of this tea is truly refined, offering a delicate fragrance that calls to mind tropical fruits such as soursop and mangosteen. Thanks to its high elevation and the venerable age of the tea trees, this tea boasts a uniquely creamy and transparent flavor profile. It delivers a soft and smooth drinking experience with a clear taste that lingers on the palate for an extended duration.
The mother tree of "Shi Tou Huang Zhi Xiang" is situated at the crossroads of Wu Dong Guizhu Lake and Shi Tou Jiao, which is Shi Tou Mountain. The tea from this mother tree (cultivar) has been propagated through grafting and cuttings and is now recognized as the "Shi Tou Huang Zhi Xiang" cultivar. It's worth noting that "Shi Tou Huang Zhi Xiang" is not exclusively grown on Shi Tou Mountain; this cultivar is distributed across various regions.