Among Taiwan High Mountain Oolong teas, Cui Feng is a minor production site, yet it produces excellent quality tea. Unlike ordinary oolong tea, Cui Feng tea has a multi-layer of sweet floral aroma with an intense sweet flavor like ripe mangoes or peaches.

Cui Feng tea plantation located at high altitude of around 1700m to 2100m.
It is often mistaken for Li Shan, but it is different from Li Shan. It is located in the mountain range in central Taiwan, where Li Shan is located, but it is a peak located south of Nantou (南投).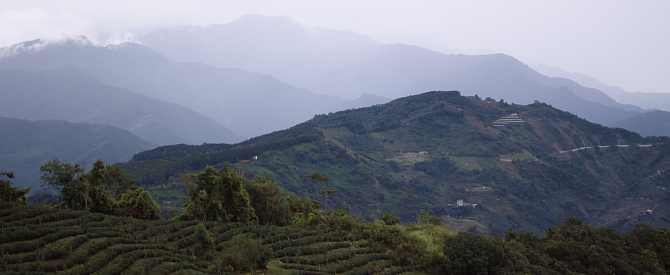 Cui Feng is a mountain with less fame, but it has been attracting attention among tea connoisseurs locally for a long time because it produces very high quality tea. Due to its relatively small production quantity, it is not as well-known as other Taiwan High Mountain oolong teas like Ali Shan or Li Shan.
We purchase from the tea plantations located at the highest altitude area among the Cui Feng tea gardens. There are various grades of Cui Feng Oolong, depending on the altitude of the tea plantation, the timing of harvest, and the processing of the tea. We selected the higher grade of Cui Feng oolong, which has an unique sweet aroma of high mountain tea which reminiscent to nectar or honey. For Cui Feng oolong, if lower grade, the flavor is similar to Ali Shan (阿里山)or Shan Lin Xi (衫林溪)Oolong.
Cui Feng tea is ranked higher than Ali Shan tea and Shan Lin Xi tea, and its quality is close to that of Li Shan and Da Yu Lin tea. In particular, I think that the fragrance is similar to that of Da Yu Lin tea. In recent years, Da Yu Lin tea plantation has be removed and it is returned to government as reserved forest land, so HOJO recommends choosing Cui Feng tea.
Since the altitude of Cui Feng is close to Li Shan, people might think that it has a scent similar to Li Shan tea, but Cui Feng tea has its own unique flavor and it's different from Li Shan tea.
Unlike Ali Shan tea and Li Shan tea, well-made Cui Feng oolong has a rich honey-like scent peculiar to high mountain tea and its flavor has a strong scent impact.
The depth of aroma, which reflects the quality of tea, is the same as that of Li Shan tea, and when you drink tea, the aroma spreads down the throat at once. The scent fills the palate and the lingering sweetish finishing lasts for a while down the throat.

The great thing about HOJO's Cui Feng tea is has a sweet fruity note like ripe mangoes or apricots. Since this tea is of a high grade tea, it contains a lot of minerals, mainly iron, so the aroma of tea lasts for many brewing. In addition, this tea has a slightly higher degree of fermentation than ordinary oolong tea, and so the sweet fruity aroma is more appealing.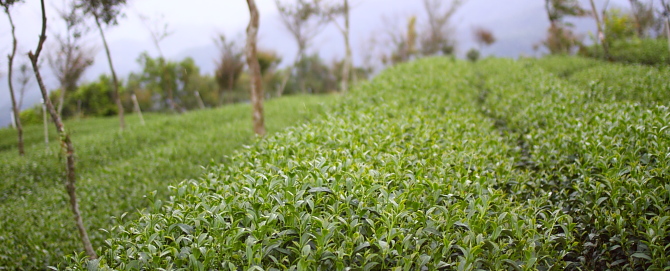 There is another way to enjoy this tea.
Cui Feng tea from HOJO is vacuum packed with deoxidizer.
If you keep tea unopened for some time (half a year or several years if you wish) at room temperature, the tea will change to sweet peaches scent. It is important to keep tea under warmer environment like in Malaysia. After keeping it under the warm environment, tea will mature well and it produces strong sweet fruity flavor; its fruity note is up to a level that can you might hardly think it is a 100% pure tea leaves.
Furthermore, it is such a waste to throw away the tea leaves after brewing Cui Feng tea. In fact, there is a great way to reuse it.
Put the tea leaves in miso soup, other soups, and simmered dishes, let it boil for 30 seconds to 1 minute, and then remove the tea leaves. It's just like taking soup stock with bonito or kelp. This will dramatically improve the taste of your food. Even though it doesn't contain soup stock, it turns into a deep and delicious taste as if it contained high-quality soup stock. This is because the minerals in the tea leaves dissolve into the soup.
As another application method, it is also recommended to add tea leaves when cooking rice. Thanks to the minerals, the taste of rice becomes very delicious, the taste of ordinary rice becomes thicker.
Of course, these reuses are meaningful because the tea is of high quality. Dong Ding Tea and Ali Shan Tea are also nice teas, but they are a little short of roles in this application.