"Jin Xuan" is a name refers to the cultivar of tea leaves. While general Dong Ding tea is made from a variety called Qing Xin Oolong, this product is made from a different variety called Jin Xuan Tea.
The characteristic of Jin Xuan oolong is its fragrance. This tea is moderately baked and it gives a sweet nutty note like  roasted chestnuts with a hint of sweet floral undertone. It is suitable for customers who prefer a stronger scent. If you drink it from the afternoon to the night, the sweet nutty scent will warm your tired mind from work. It goes well with savory food too.

Another way to enjoy this tea is cold brew: put 1 tablespoon of tea with 1 liter of water and leave it at room temperature, or you can keep it in the refrigerator. It gives a sweetish nutty drinking sensation.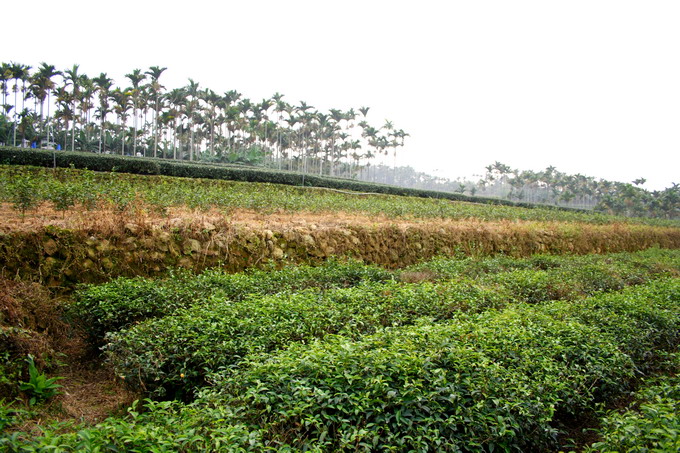 Tea Garden at Dong Ding Mountain


Jin Xuan Oolong                                                             Qing Xin oolong
The secret of deliciousness comes from the mountain

If you have ever been to Dong Ding mountain, you will realized that it is a relatively small tea production area. So, not to be surprised that most of Dong Ding oolong tea in Taiwan is made from "other area besides Dong Ding". There are many tea plantations at lower altitude in Nantou and surrounding county, and those teas are sold as Dong Ding oolong at lower price. Tea has a decent fragrant too, and many people may not be able to differentiate it from the oolong from Dong Ding Mountain. The main different is the finishing or aftertaste, Dong Ding oolong from the mountain has more lingering finishing down the throat compared to lower altitude regions of oolong tea. HOJO's Dong Ding oolong tea is made from tea cultivated in Dong Ding, and it is the first-plucked spring tea, which is considered to be the highest quality among Dong Ding Oolong. It is very rare and therefore the price is a little high.
It's an economic tea that up to seven brewing is possible

When tea is brewed in a small teapot (200-250cc), you can enjoy more than 7 brews of tea. In other words, with one tablespoon of tea leaf, you can brew up to a liter of tea. It is economical because of high quality tea.

Relax with easy-to-drink tea
HOJO "Dong Ding Jin Xuan Oolong", which has no astringency and has a sweet nutty scent reminiscent of roasted chestnuts and a floral undertone, can be enjoyed by people who have a weak stomach and less tolerance with strong tea. It is recommend to have this tea, during Chinese dim-sum in the morning or afternoon, or during tea time,to be served with sweet dessert, or an anytime tea during work hour, or as a tea to relieve fatigue after dinner.