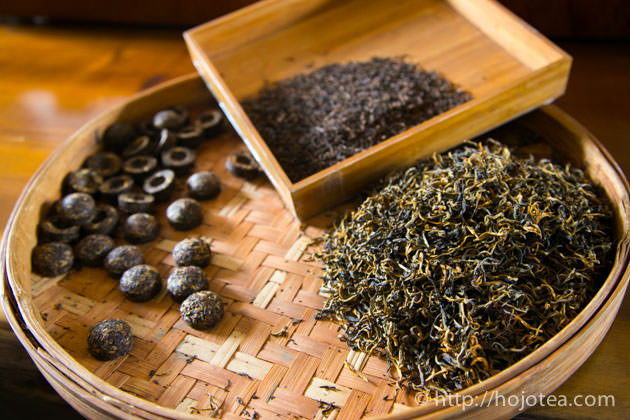 We developed a new tea blended between Gong Ting grade ripe pu-erh and Yunnan black tea. We wanted to create a tea that gives sweet flavor with thick and mellow drinking sensation.
Collaboration between ripe pu-erh tea and black tea
Since some time ago, I have discovered that the combination between naturally farmed black tea and the naturally farmed pu-erh tea (Gong Ting grade) works extraordinarily well. In last winter, it became my favorite cup of tea. It is not just about adding the flavor of black tea to pu-erh ripe tea but then the synergy effect. I have tried to recommend this combination to many customers and friends. However, many people are not willing to try this blend due to the following obstacles:
Need to get two types of tea
Not very easy to blend two types of tea since not certain about the proportion of each tea

The compressed pu-erh and loose black tea have different speeds in extraction. The loose tea release the taste and flavour in a faster speed than the compressed pu-erh tea.

We made mini tuo-cha in order to achieve a consistent ratio
We wished to solve the above three obstacles so that everyone can enjoy as the same flavor and taste as what I've enjoyed very much.
At first, we faced technical problem in blending. The mao-cha of Gong Ting ripe pu-erh tea is very short as it mainly consists of young buds, while the leaf of black tea is bigger since it is made of the whole leaf. Due to the differences in size, it is hard to evenly blend two teas. So we decided to produce compressed tea instead of loose tea. However, we were reluctant to compress tea into 200g or 357g. It is not a good idea to break black tea leaf when we break the cake. We also worried if the blending would not be consistent. Thus, we decided to compress tea into mini tuo-cha at about 4-6g. Customer can just pick one piece of mini tuo-cha and brew it. It is so simple and easy.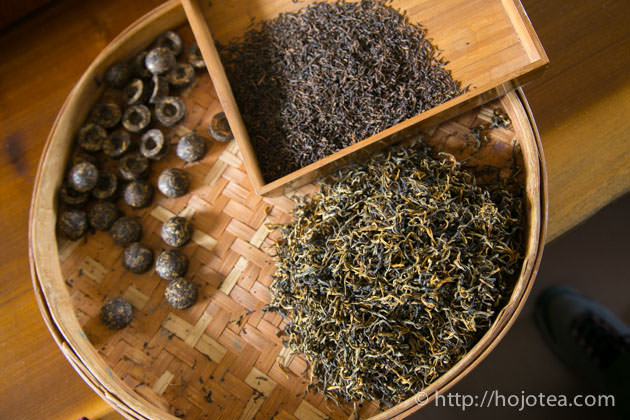 Black tea is made from one bud and one leaf We selected Yunnan black tea that leaves were plucked on around 20th of March. The plucking standard is one bud and one leaf. For making black tea, I prefer one bud and two leaves because of the taste. However, I purposely selected one bud and one leaf in order to get a mellow mouth-feel. The tea is collected from the natural tea garden located at 2000m in Lincang. Tea was grown without pesticide and fertilizer. The farmer did not even remove weeds from the gardens.
We used Gong Ting Jin Hao ripe pu-erh
As for ripe pu-erh tea, we choose Gong Ting Jin Hao, one of our existing tea lineups. It is also the naturally-farmed tea produced in Lincang. This tea will gives a fruity note like dried dates when it is matured for 2-3 years. Considering this fact, it is not only nice to drink when tea is just produce, but keeping it for more than a few years for maturation will be nice to enjoy too.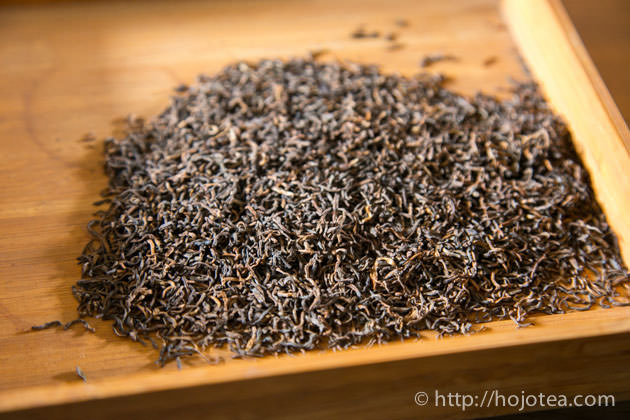 We named it Gong Ting Dian Hong 宮廷滇紅
I was extremely happy when I saw the tea made in a trial run-basis. It looks far more beautiful than I have expected. The golden leaf of the black tea makes the overall appearance of mini-tuo cha very elegant and gorgeous. In addition, I was very happy too for the outcome in taste and flavor. Thanks to the compression, the speed of extraction becomes the same between black tea and pu-erh tea. Since we have blended between Gong Ting Jin Hao ripe pu-erh tea and Yunnan Black Tea, we named it Gong Ting Dian Hong 宮廷滇紅. Dian Hong is a classic name of Yunnan Black Tea. Dian means Yunnan in the old expression of Chinese. Hong means "red" in Chinese language with referring to the black tea as its liquor is reddish.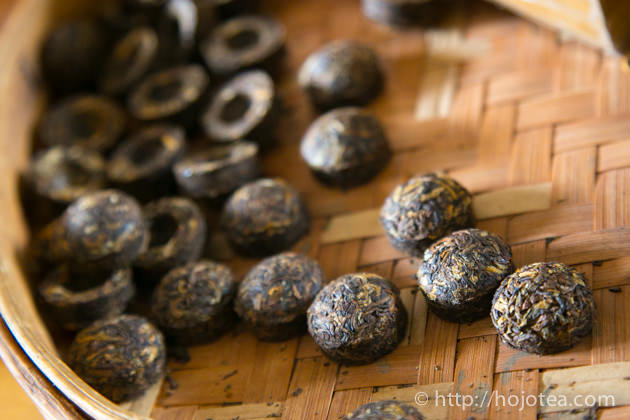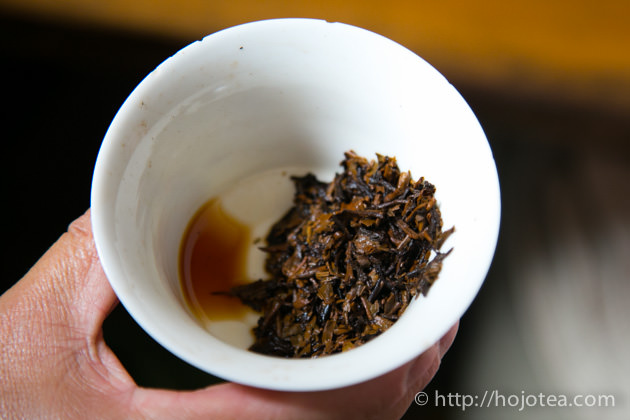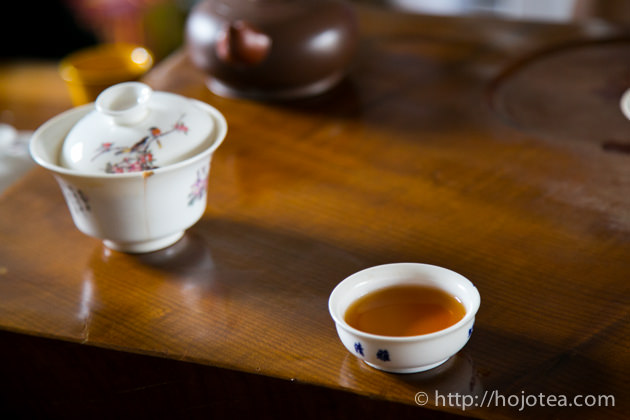 Very good affinity with milk
Gong Ting Jin Hao performs excellently too when it is added with milk. You may brew this tea with less water and for a longer time (may be up to 3-5 minutes with boiling hot water). Add more portion of milk to the highly concentrated Gong Ting Dian Hong, it appears bright beige color. It gives mellow and silky mouth-feel and natural sweetness thanks to the overwhelmingly strong aftertaste. You may prefer to drink tea straight, or you may add some brown sugar if you prefer your beverages sweet. The outcome with milk is really impressive that I strongly suggest everyone to try at least once.