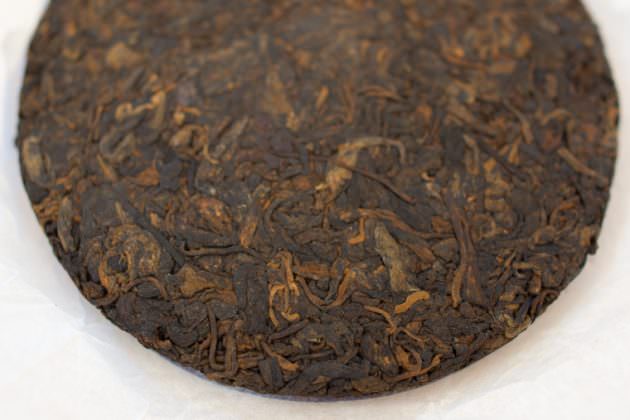 Using the spring tea collected from the garden that is left in wild for more than 30 years, we made Huo Cao Shan ripe
pu-erh tea
. It gives soft and silky mouth-feel with long-lasting aftertaste, with a hint of sweet flavour like dates or dried figs.
Huo Cao Shan is located near the Myanmar border
Huo Cao Shan is located in the south west of Lincang. It is situated in Zhenkang county facing to the national border of Myanmar. Next to Huo Cao Shan is Ma An Shan, one of the renowned mountain that produces excellent tea. The process of making this tea is not unique, but the material is very special. Because of Huo Cao Shan is located at far distance from the nearest airport (more than 8 hours), we found that a number of tea gardens are still kept in very traditional way. The tea gardens are left in wild, with no fertilizer, no pesticide or herbicide and most of the time, weeds are remained. The tea trees are surrounded with wild plants and it's a well-balanced ecology.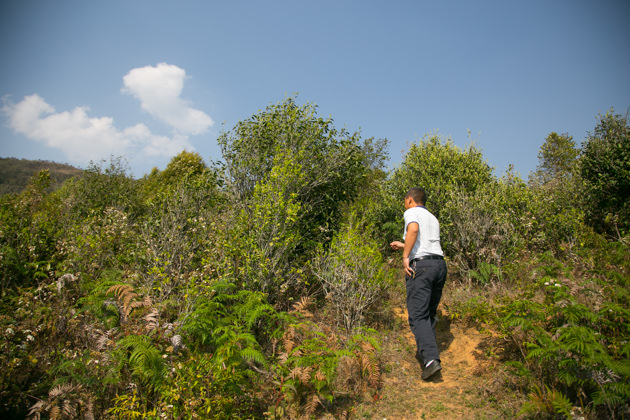 It looks like bush. But actually, it is the tea garden that is left in wild.
Ripe pu-erh tea made of spring crop is very limited
The main market of ripe pu-erh tea is north-east of China or overseas. These are quite price sensitive market. Thus, most of the ripe pu-erh tea manufacturers are very particular about the cost of raw material. Normally, some manufacturers will blend three seasons tea in order to even out the cost and the quality. In most cases, the manufacturers only use two seasons tea (summer and autumn) for making ripe pu-erh tea. In the past two years, more and more manufacturers use only summer and autumn crop for making ripe pu-erh as the price of spring crop has increased a lot. Nowadays if we purchase tea from wholesalers in Kunming or Guangzhou, we can hardly get the ripe pu-erh tea made of 100% spring tea. Nevertheless, if one has ever tasted spring tea, it is hard to come back to the summer or autumn tea. The taste and the flavour are obviously different. The spring tea taste is soft, mellow, rich, sweet and the after taste lasts for a long time.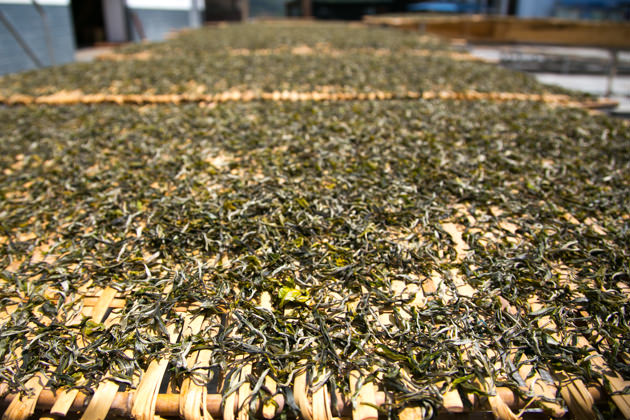 The freshly produced raw pu-erh of Huo Cao Shan.
Custom-order ripe pu-erh tea
The ripe pu-erh tea is produced through the fermentation of raw pu-erh tea. The raw material of Huo Cao Shan ripe pu-erh tea gives an excellent drinking sensation even if we drink it before fermentation. It is essential to choose the quality material in order to produce quality ripe pu-erh tea. However, the fermentation of ripe pu-erh tea required several tonnes of raw pu-erh tea to be piled at one time, and the whole fermentation process takes about 45-60 days. It involved huge cost and high risk. We have been requesting our manufacturer to produce premium ripe pu-erh tea. But it was not very easy to convince them, especially recently the price of raw pu-erh has skyrocketed. Usually, the commercial tea markets are expecting low price ripe pu-erh tea and less demand for the high-end ripe pu-erh tea. Our manufacturer knew that it would not be easy for him to sell premium ripe pu-erh tea. However, after many rounds of discussion and persistent request, finally our manufacturer found the way to conduct fermentation in much smaller scale, and he managed to collect the raw pu-erh tea from Huo Cao Shan for making ripe pu-erh tea.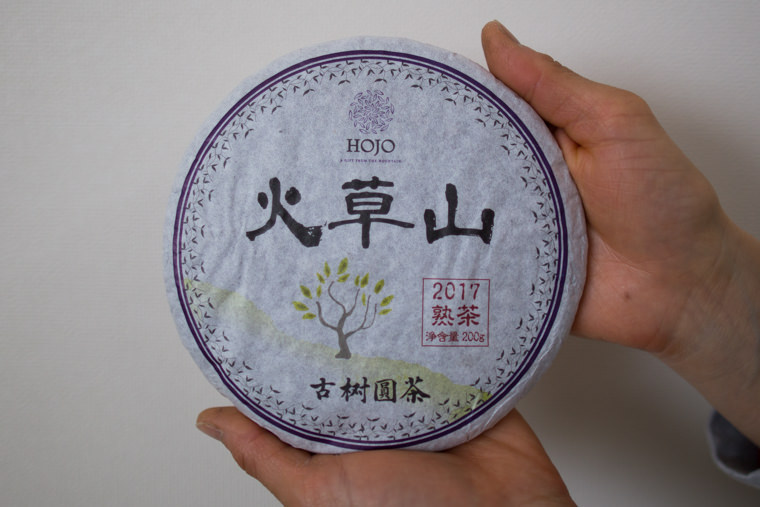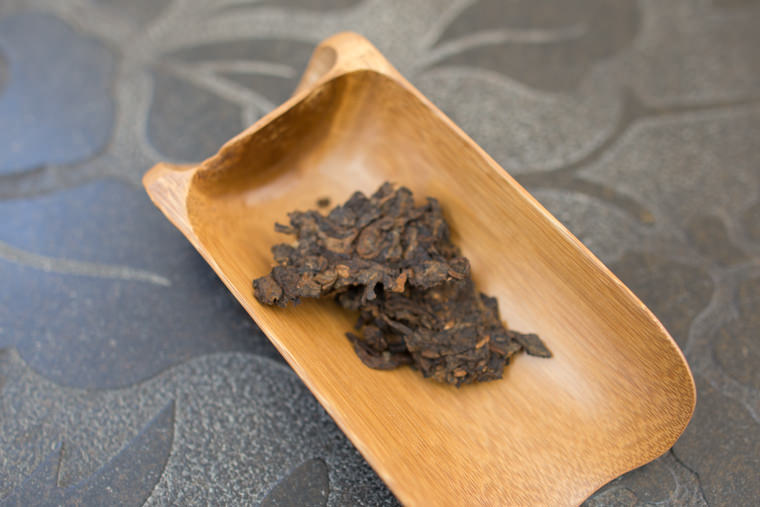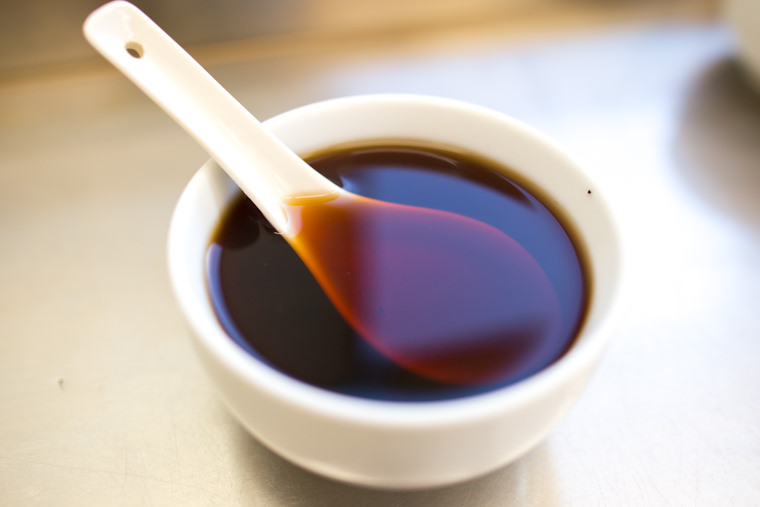 Appropriate material and process makes it excellent flavour
A number of customers told us that the reason they did not like ripe pu-erh tea is because of the particular smell that reminded them of old furniture or mold. In fact, this specific flavour is composed because of two reasons. Firstly, if moisture is too high and aeration is not sufficient during the fermentation, it promotes the growth of anaerobic bacteria. It produces musty or earthy smell. During piling process, tea has to be agitated regularly in order to supply adequate oxygen. Once the moisture and oxygen supply are adequate, the aerobic bacteria dominate the fermentation and increase the temperature of tea leaves. As a result, it supresses the growth of other unfavourable bacteria and eventually it produces sweet fruity flavour. Another reason of the formation of unpleasant flavour is due to the raw material. As manufacturers are too particular about the cost, they often collect the low cost raw pu-erh tea directly from farmers at remote villages; these raw pu-erh teas often have extremely smoky flavour. After the fermentation, the smoky smell still remains as typical smoky and woodsy flavour of ripe pu-erh tea. Some people likes it but some people do not like it. Huo Cao Shan ripe pu-erh tea gives very mellow drinking sensation with sweet Chinese dates flavour. As this tea is very rich in mineral, it will age well. I particularly recommend this tea for the customer who usually love raw pu-erh tea. This should be the tea that even raw pu-erh tea drinker could also enjoy.