Huang Wu Lin pu-erh tea is one of the richest tea in the HOJO lineup. It has a strong taste and rich flavor, and you can enjoy a lingering sensation down the throat when you drink it.
This tea is produced in a small village in the mountains, in Lincang. One of the characteristics of the Lincang mountainous area is that the land is so dry, it is like a desert with harsh climate. The entire area is composed of highly viscous red soil.
In this dry area, the tea trees are in a very shabby state due to the dry area, but high quality can be expected. In fertile land, tea grown quickly so the tea becomes lighter in taste and less mineral content. On the other hand, tea grown in a harsh environment over time has a very strong taste. These tea trees have been cultivated in their villages for thousands of years. Following the traditional farming method in their village, after the tea trees were planted, it was then left in the fields and not maintained at all. Speaking of natural farming, this is natural farming, but tea is wilder  and they did not remove weeds, not to mention that no pesticides and fertilizers were used. Only before harvesting, they removed weeds around the tea trees to secure a foothold. It is said that this method of cultivation of tea was inherited from their ancestors. With the nearly-wild condition, tea is very rich in taste.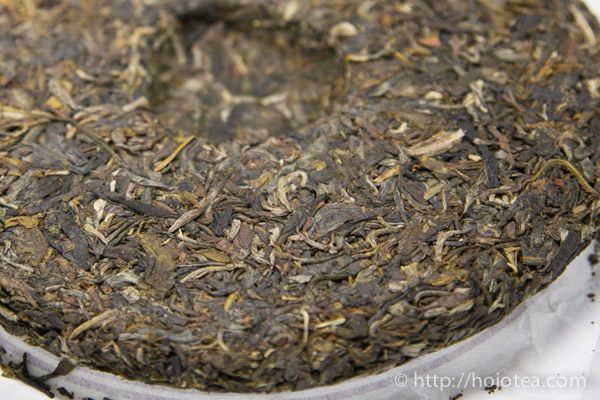 Visiting the village in the mountain to look for naturally farming tea

I think the real thrill of drinking Pu-erh tea is that you can enjoy the complex and thick taste of naturally cultivated tea at a lower price. In fact, if you ask for oolong tea, green tea, or black tea of ​​the same quality level, the price will be unimaginably high. However, not all Pu-erh teas made in Yunnan meet these requirements. In fact, more than 90% of the Pu-erh tea producing areas in Yunnan have been visited by tourists after the development of roads, and the traditional natural cultivation method that has been practiced for thousands of years was discontinued in many areas. Many of these tea gardens have shifted to a modern agricultural method that uses fertilizers and pesticides. When this happens, the tea does not have richness in taste, and yet the price rises unnecessarily. We are looking for tea with thick taste and made by natural cultivation, and so, we stay in the mountains of Yunnan for one month every year to purchase tea. If you want to buy high quality tea, you have to go to remote areas in the mountains.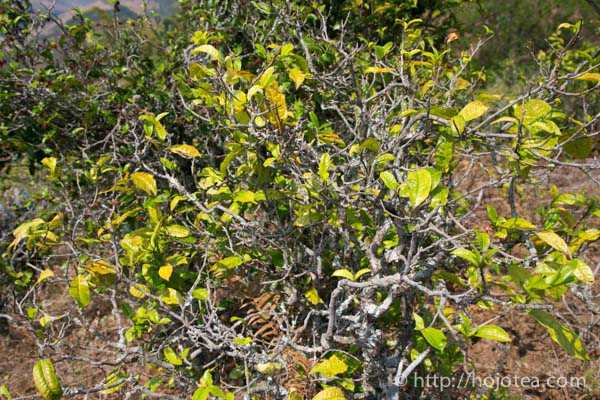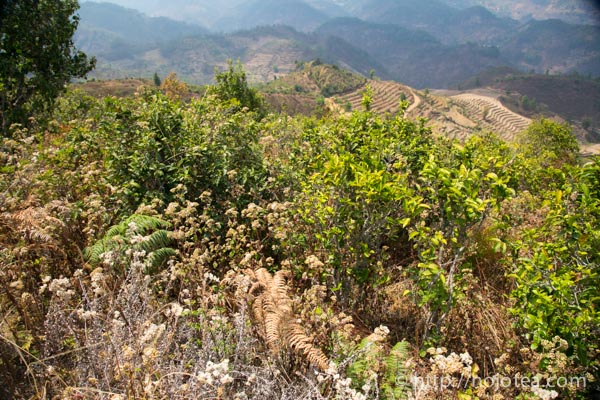 Unique scent produced by simple production equipment
Huang Wu Lin pu-erh tea is produced in a very remote area, and the producer lives a very simple life, and the production facilities are not sufficient. The diameter of the frying pan used for production is small, and the iron plate is thin, so the temperature cannot be kept constant. For this reason, the tea leaves tend to be overcooked during the pan-frying process, and the tea has a slight aroma of roasted soybeans. This scent is commonly found in many younger Pu-erh teas. If you rinse the tea thoroughly before making tea (like two to three rounds of rinsing with boiling hot water), you can enjoy the clear aroma from the next few brews. Because it has a bold body and thick taste, it is very popular even it has some toasted aroma. Especially if you keep drinking this tea, it becomes a habit. After aging, this tea has a scent similar to white tea, and it gives a grassy note reminiscent of straw and hay. After several years of storage, the aroma of honey, vanilla, caramel and dried fruits is formed, and the aroma of toasted soybeans felt in the first year is almost unnoticeable.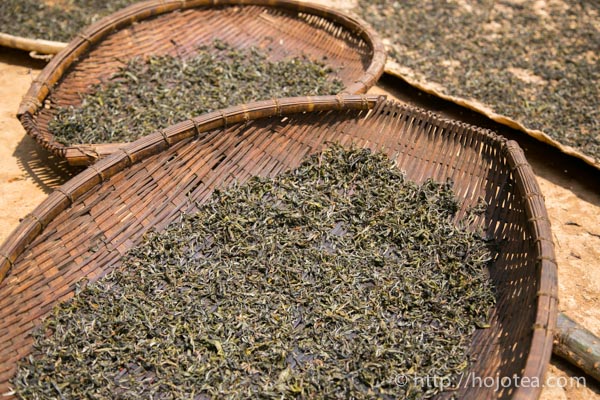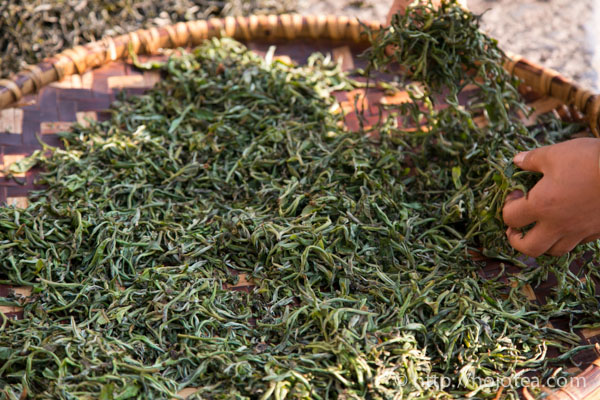 Tea leaf quality and processing technology are incompatible
After venturing into the quest of tea sourcing for some time, I came to the conclusion that there are two options in selecting the pu-erh tea: first option: choose a medium quality ingredients cultivated near the city + well processed ingredients, or second option: the finest ingredients produced in remote areas + tea with a slightly fragrant aroma like roasted soybeans due to uneven roasting temperature. It is a very ultimate choice. In my case, for teas like this product, which have a prominently strong taste and high quality raw materials, I chose to have this tea even if the roasting temperature is a little high and the aroma of the new tea is not perfect. We like you to enjoy the overwhelming taste of extremely high quality ingredients that are grown completely natural. If you actually bought the tea but the aroma of the new tea is not very appealing, a few years of aging will create a fruity aroma like dried dates/fruits and that will dramatically change the tea to make it easier to drink.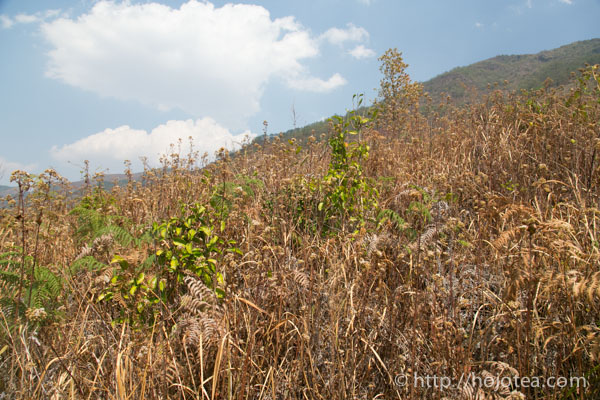 Naturally cultivated tea gardens do not look like tea gardens no matter how you look at them.

As soon as you drink Huang Wu Lin Pu-erh tea, your face will flush and your body will be warm up, and at the same time you will feel relax. Mineral-rich teas dilate blood vessels and promote a better blood circulation, so drinking quality tea warms your body and relaxes you.