Unique Tea that Cannot Be Found Anywhere Else
We have sourced white tea made from old trees located in the southwestern part of Yunnan Province, near the border of Myanmar, at an altitude of around 2000m. We obtained this tea from ethnic minority groups and processed it into jasmine tea in the Guangxi Zhuang Autonomous Region. This tea is made from completely naturally grown tea. Since it is grown without fertilizers or pesticides, the harvest yield per tree is approximately 1/4 compared to typical tea gardens. Additionally, due to the slow growth process, the cells in this tea are very small, and it is rich in polyphenols, resulting in a concentrated taste and aroma.
Jasmine tea is typically made using green tea as its base. The reason behind this is that green tea has a mild fragrance, allowing the jasmine scent to be emphasized. On the other hand, it is extremely rare for white tea to be used in the production of jasmine tea. This is because white tea has a unique floral-like fragrance, which raises concerns that it may overpower the jasmine aroma. Moreover, the high price of typical white tea from Fujian Province means it is rarely used as the base tea for jasmine tea. In the case of the Gu Shu Yin Zhen (ancient tree Silver Needle) we used as the raw material, it has a pronounced fragrance of white tea. However, thanks to its deep richness, it harmonizes perfectly with the jasmine aroma and resulted in a jasmine tea that doesn't resemble a typical jasmine tea. The collaboration between the goodness of white tea and the sweet fragrance of jasmine creates a refreshing and sweet aroma, reminiscent of citrus fruits. The strong richness that engulfs not only the throat but also the depths of the chest represents the unique quality of naturally-grown tea. With hardly any bitterness and a very sweet aftertaste, this tea can be enjoyed by children and those who love jasmine tea. It is also delicious when brewed as a cold infusion. Although the appearance of the tea leaves may not be as beautiful as the Gu Shu Yin Zhen, as it undergone a long scenting process, once you taste it, you will be moved in various ways by this remarkable tea.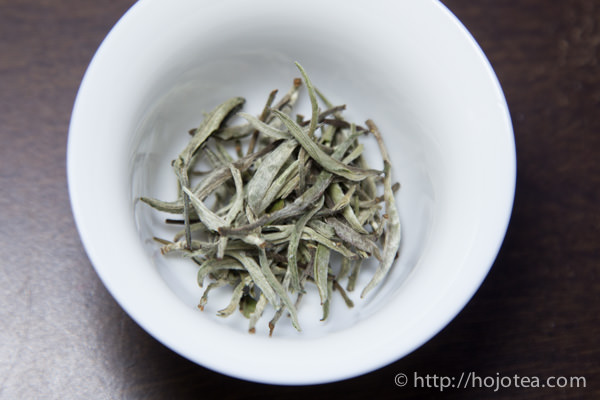 The background of making Jasmine Silver Needle

Gu Shu Yinzhen is one of the very popular teas in our shop. It is a white tea grown in Yunnan with complete natural farming method. The reason why this tea is popular is thanks to its overwhelming extent of aftertaste. It gives very long lasting taste, remains in our throat for a long time. Back in 2014, I have visited the village which produces this tea. While I was looking at the tea, I was beginning to think that it would be interesting if we use this tea as a base tea for making Jasmine tea. I have always wanted to make jasmine tea using white tea. Gu Shu Yinzhen is not only the white tea, but also the naturally farmed tea. With its overwhelmingly strong aftertaste, it will be a very special Jasmine tea. Once this idea popped up in my mind, I couldn't help buying Gu Shu Yinzhen for the scenting purpose. Right away we also made an arrangement with the jasmine tea manufacturer to book the schedule of scenting.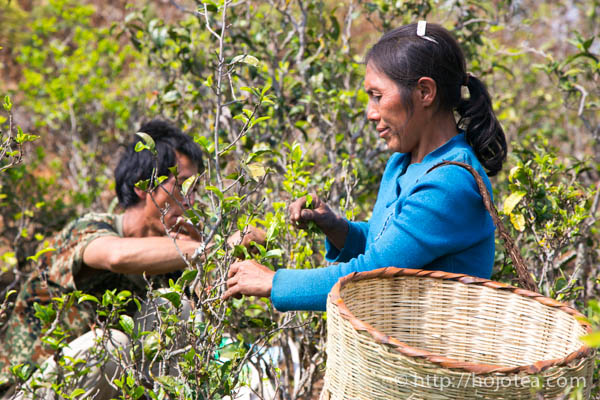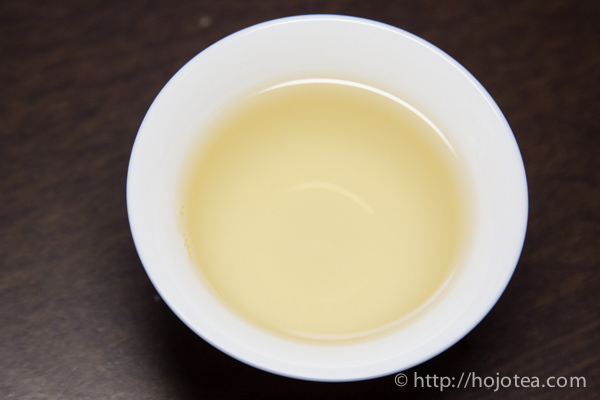 Naturally farmed tea by Yunnan minority tribes
Gu Shu Yinzhen is harvested from tea trees grown near the Myanmar-China border in Lincang. The tea garden is located at around 2000m. In early springtime of March each single downy bud is hand-plucked. This tea is made with no fertilizer and no pesticide. Following the tradition of Yunnan minority tribes, tea tree is left without any care and it is like wild tea tree in nature. Usually, the farmer only conducts weeding once a year right before plucking. These tea trees grow extremely slowly, and tea accumulates more substances and the taste of tea becomes very thick, just like wild herbs in the mountain. Many customers have tasted this tea and they often comment that it is very sweet.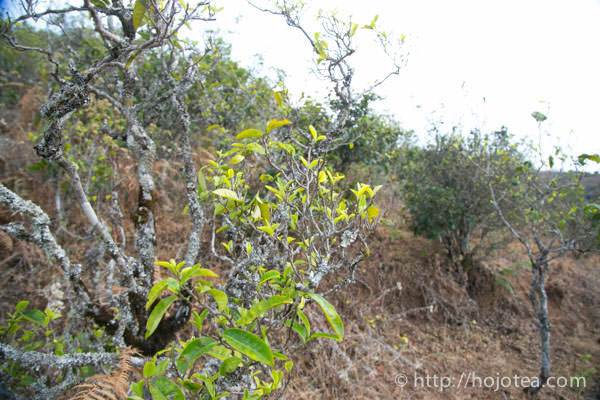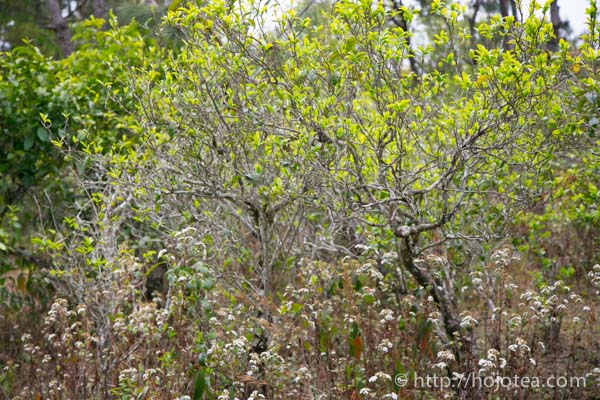 Mixing tea with fresh jasmine flowers, repeatedly scenting for 6 nights
Since we cannot roll white tea into pearl shape, we decided to maintain its original needle shape and proceed for the scenting process. For the premium jasmine tea, it is essential to blend tea with the fresh jasmine flowers. The blooming season of jasmine flower is July to September. So we keep tea in China for a few months until the jasmine flower is ready. We conducted scenting for six times. Each time a new batch of fresh jasmine flowers is used and mixed with the tea. In daytime, the farmer collects the jasmine flower buds which are about to bloom and they are in ball shape. The flower buds are then gathered in the factory. As jasmine flower blooms at night, tea is blended with the flower in the evening, and the scenting process is continued till the next morning. The flowers are then removed from the tea leaves, and the tea is dried. The same process is repeated for many more days and every time a new batch of fresh jasmine flowers is collected and mixed with the same tea.