Kasuga is the name of a place in Gifu Prefecture. Kasuga is located nearby Kyoto and it's far enough from Fukushima. Tea from Kasuga is safe for drinking.
In Kasuga, the very old tea trees are still available. This tea is produced from tea tree aged about 200-300 years old. In general, ordinary Japanese green tea gives "umami" taste with mild and brisk finishing, while Kasuga Zairai Sencha gives a totally different drinking feeling. Unique among Japanese green teas, Kasuga Zairai sencha has a high degree of complexity. It gives a very deep after taste and long lasting sweetness; this is a rare treat when of Japanese green tea. Its flavor stimulates the palate, and it gives a fresh and pure floral bouquet that lasts for a long time. Even if you lost your ability to smell, once you drink, you will still sense its three dimensional feeling in taste.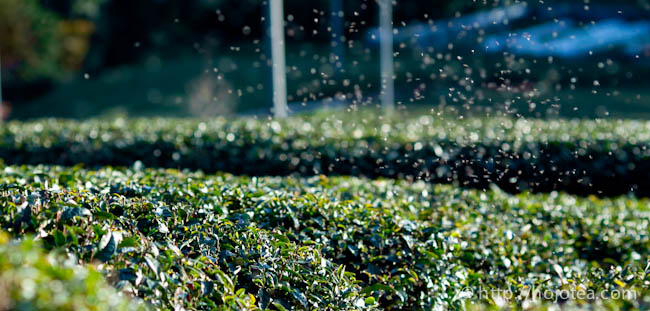 Kasuga Zairai Sencha is made without any usage of pesticide. Indeed, the entire Kasuga village is not using any pesticide; it's
very eco-friendly
. In the tea garden, I noticed a lot of flying insects when I visited there in November.
Limited stock is available now!
Nowadays, the number of old tea tree in Kasuga is drastically reduced. Many farmers switched to young tea tree. The young tea tree has very shallow root while the old tea tree has much longer roots that penetrate deeper under the ground and able to absorb more minerals. In particular, Kasuga from old tea tree is giving much deeper after taste. Nevertheless, the production quantity is very limited since very less number of old tea tree is available now.
We selected a farmer who owns the garden with very old tea tree. We purchased the whole lot of Kasuga Zairai Sencha produced from his old tea tree, and it's only 30kg and that's all from his entire garden. Due to very high cost performance, this tea moves pretty fast. If you are interested, please visit us to try before it finish.
Kasuga Tea Garden: It is located deep inside the mountain.