The first black tea made in the world...
The origin of Earl Grey tea...
Lapsang Souchong has many stories behind it...
Either Fall In Love or Hate It!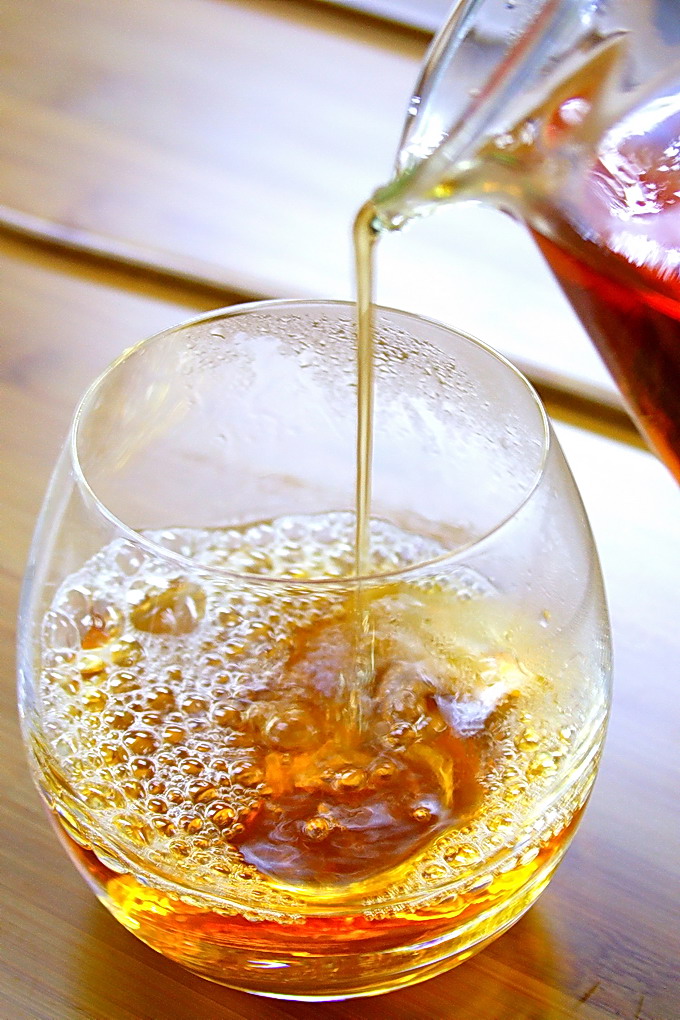 Lapsang Souchong has a very identical smoky aroma. Once you drink it, you may never forget about it. Just like the Espresso coffee, it is either you love this taste very much or do not want to drink it any more.
Unfortunately, it is said that most of the Lapsang Souchong available in the market is intentionally smoked.
Experience our genuine Lapsang Souchong that is not only smoky but you would feel the dried fruity undertone like dried Longan.
What is the Genuine Lapsang Souchong?
We stick to the quality. We purchase our tea from the most historic and genuine manufacturing area where the tea is made according to the age-old method used until today. This genuine quality is different in terms of the following points:
1) Tea leaf is lustrous
2) Tea leaf is in a reddish black color
3) The size of the tea leaf is small
Try to look at the tea leaf under the sunshine. You would notice that some of the tea leaves are shining like black crystal. This is the fact alone proves its authenticity of the real Lapsang Souchong.
The fake quality usually shows the following characters:
1) Tea leaf shows a grayish black color or a very dark color
2) Color is not bright as the smoky aroma might have been added by burning the logs or barks of different types of tree.
3) A very strong smoky aroma, yet no aroma of dried Longan
4) The taste is thin, lack of body and taste becomes drastically thin when it comes to the 2nd brewing
Dried Longan Flavor and Smooth Feeling
Due to its smoky aroma, many people assume that it tastes bitter. However HOJO's Lapsang Souchong is not bitter at all. Sometimes the poor quality Lapsang Souchong even gives a sour after taste. Our Lapsang Souchong gives a strong dried Longan aroma, smooth drinking feeling and a slight stimulation when it passes though our throat thanks to the amber.
It is the Perfect Partner with Whisky?!
Lapsang Souchong has an amazing characteristic. It is the BEST PARTNER WITH SCOTCH SINGLE MOLT WHISKY. Sip a little whisky and then try a cup of hot Lapsang Souchong. It is the perfect match to collaborate each other. You can't help drinking both until you completely get drunk!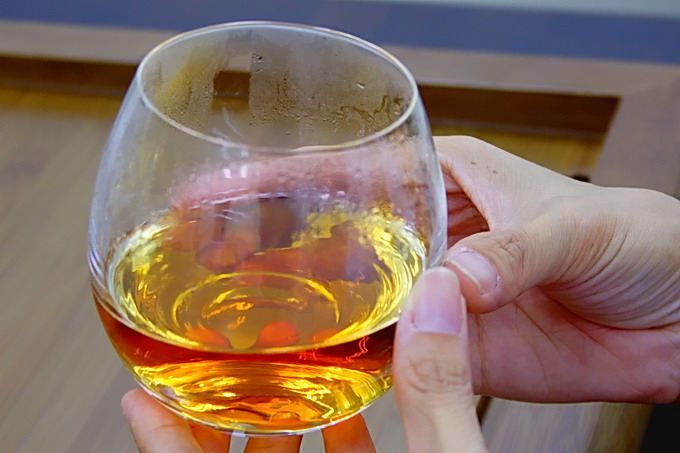 How About Using A Crystal Glass?
Premium Lapsang Souchong gives a very transparent color. In order to enjoy its exclusive golden orange color, we recommend serving it with a crystal glass.
Brew A Little Thick and Relax
This tea is one the best compliments for meaty food. After eating oily food, it can wash away the oil from your mouth. A moderate stimulation of amber and smoky aroma can enhance the cooking. In addition, this tea is very relaxing drink when taken if we are physically tired.
Certainly it is from the Non-Pesticide Tea Garden
HOJO's Lapsang Souchong comes from the non-pesticide tea garden located at Wu Yi Mountain. In addition to the pesticide status, no chemical fertilizer is used. Tea garden is in very poor condition in terms of nutrition. This will make the tea leaves give a very sweet taste and thick body. Our tea is sweet, thanks to the non-pesticide tea garden.
The More Mature, The Better Its Taste Becomes
The longer this tea is kept, the better the taste and flavor becomes. You do not have to keep this tea in the fridge, but room temperature is suitable.
You Can Brew At least 5-6 Times
Many customers think that they cannot brew black tea more than once. Please try our Lapsang Souchong. You can brew it at least 5-6 times. It is very economical in a way. Is it not?
Real Lapsang Souchong is Mellow and Sweet especially after tea is aged for some time.