We made pu-erh tea using the tea leaves of Ma An Shan, which its good quality stands out even in Lincang. It is a tea with a rich mineral content and a thick taste. One might associate thick taste as bitter or astringent. No, this tea is not bitter or astringent, when we mention thick taste, it means that tea has a complex and multi-layer of flavor, or in other word, it has a rich taste. It is a very popular tea for children because you can hardly feel the bitterness or astringency. After aging the tea (unopened bag) for more than a few years, now a sweet honey-like flavor is formed. Not to be surprised that some people commented that this is not a pu-erh tea but a scented tea when they first try this tea, simply because of its sweet note is just overwhelming.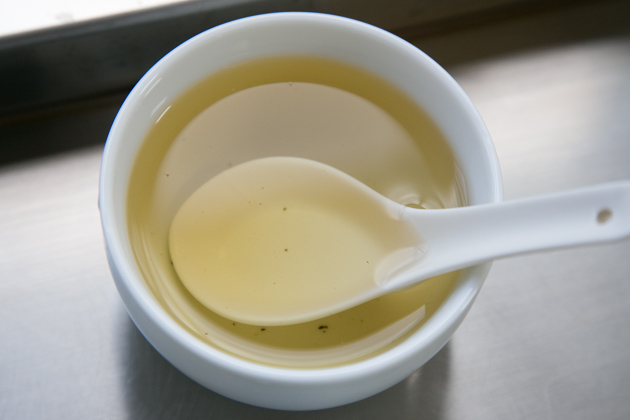 Four famous tea production area in Lincang
Regarding the Yunnan tea, I mainly purchase teas from Lincang, which has a high latitude and altitude. There are four famous tea producing areas in Lincang: Xi Gui, Bing Dao, Mang Fei and Ma An Shan. Of these four production areas, the prices of Bing Dao and Xi Gui, which are relatively the two easy-to-access areas and are close to the city of Lincang, are now unusually high. Naturally, when there is a demand, there is a supply. When the demand from commercial market increases, in order for farmers to increase the production quantity, they use fertilizer to increase more output per tree. With more fertilizers, tea trees grow faster and teas caan be plucked many times during the year, resulting in a significant deterioration in quality. Mang Fei is about 6-7 hours away from Lincang, and the price of Mang Fei tea has been rising in recent years since the government officially opened a tea factory and Mang Fei tea was introduced and promoted in a documentary program in China.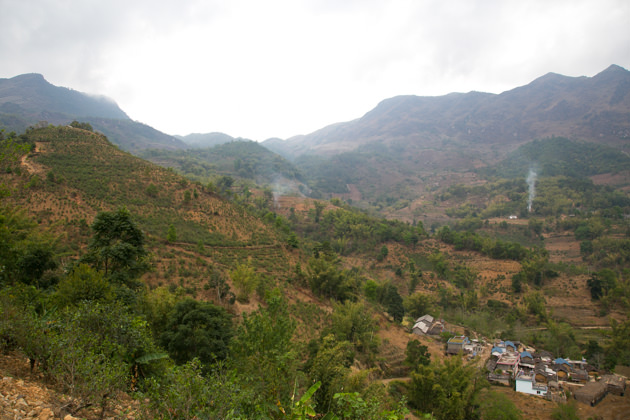 By far the highest quality Ma An Shan tea
Ma An Shan, the fourth famous production area of ​​Lincang, is located farthest from the nearest airport, and it takes more than 8 hours by car. Ma An Shan, which is located near the border with Myanmar, is an unknown tea production area, probably because it is very difficult to access to the location. However, if you have tasted the real Ma An Shan tea even once, you will be amazed at the high quality of Ma An Shan tea. When I first drank Ma An Shan tea, I was shocked. The characteristics of Ma An Shan tea are a very rich and complex taste, with deep and bold aftertaste. When drinking it, you will feel a strong punch of flavor, and you will feel a rich sensation and the taste of tea spreads over the palate. The strength of the body is at the same level as the Lao Ban Zhang, which is said to be the king of pu-erh tea. However, fertilizer cultivation has become a common way of tea growing in recent years due to soaring prices, and tea with a rich and deep taste like Ma An Shan is rarely seen. In the case of Ma An Shan, it has both richness and body, so I think it is a really irresistible tea for tea lovers.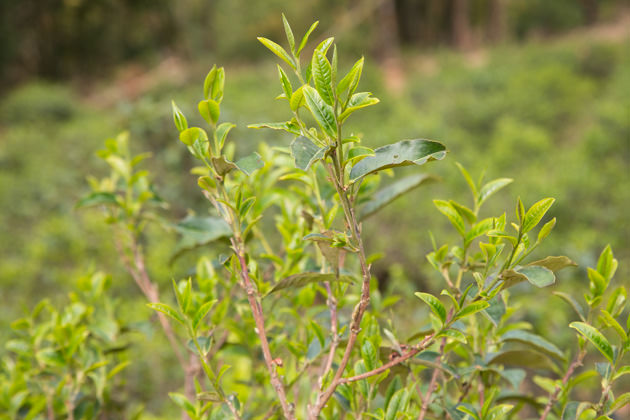 The non-fertilizer tea tree has tea leaf with golden yellow color
Modern agriculture creeping up to Ma An Shan
However, as for Ma An Shan, the fertilizer cultivation has been carried out in the center of the village for several years, and the quality of tea has deteriorated. So, in order to look for the right quality of tea, i.e., natural farming, with no fertilizer and no pesticide, I look for tea in the area where the altitude is higher. Some people might think that, well, organic fertilizer should be okay to accept. However, with fertilizer, even if it's organic fertilizer, tea trees grow faster and the tea leaves become greener and darker in color and larger in tea leaf size. In other words, the taste is lighter and thinner, that's what it means that when fertilizer is used, the quality of tea deteriorated. Naturally farming tea has small leaves, a yellowish color, and a whitish tree bark. In addition, when we go to the tea garden, we are able to judge whether or not it is a natural-farming tea, based on whether or not vegetation grows on the ground surface.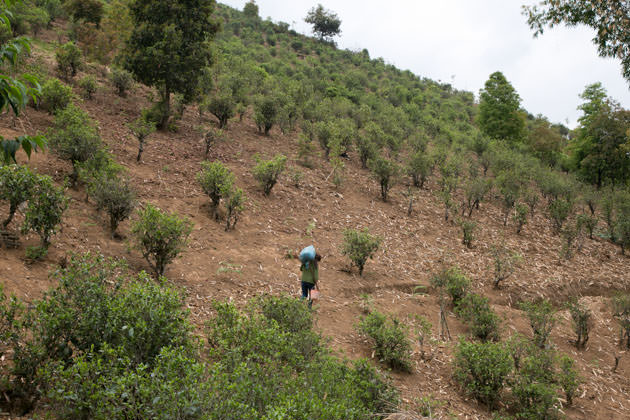 Farmer carrying fertilizer to the garden nearby the village.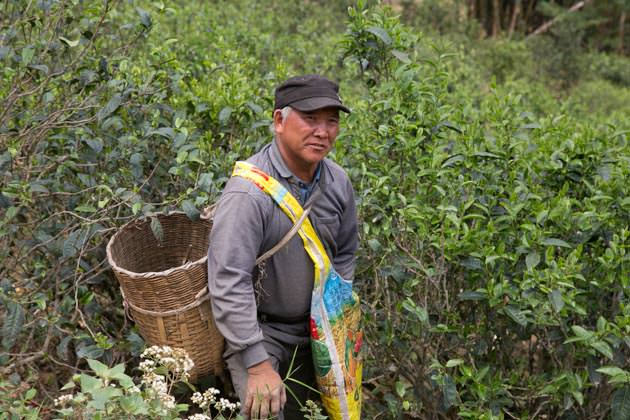 It's quite rare to see the male tea plucker in the mountain. Normally, hand-picking of fresh tea leaf is done by ladies.

Search for producers with high-skill processing techniques
Search for producers with high-skill processing techniques

Of course, the quality of the tea is definitely crucial, and other very important points are: (1) whether or not the tea leaves can be managed after picking, and (2) the know-how in pan-frying process. After plucking, if the fresh tea leaves are not handled with care before making tea, the tea leaves will turn reddish due to oxidation, resulting in an negative effect on the aroma and taste. Also, if the pan-frying process is not done well, the tea will be scorched, and a burnt flavor will occur. In order to avoid such problems, it is important to find a tea producer who can pay attention to even the smallest details and has a deep understanding of the relationship between tea processing and quality.
This time, I searched for a tea producer and walked around the village of Ma An Shan for a day. One of the producers I met was a person who could explain the problem I pointed out very seriously and logically. Also, when he received the fresh tea leaf from the tea pluckers, he checked the very details of the tea leaves, demonstrating his high production control ability. Therefore, we set some control standards for production and requested for custom-made tea. A few days later, I got a prototype of tea, and the prototype was of great success. As a tea producer with a high awareness of quality, he is able to meet our quality criteria in production.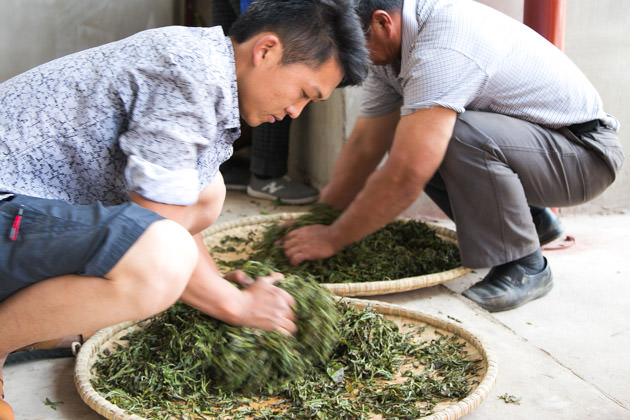 Hand-rolling process is conducted after the pan-frying process.
Choosing tea is choosing people
This production was carried out based on the quality of the prototype, and the purchase was finally completed successfully. Ma An Shan is the most luxurious tea in my pu-erh tea lineup, it has a fullness in three-dimensional drinking sensation. For that, it is important that both the quality of tea and the tea making skills are at a high level. It was very difficult this time, but I was able to experience a great sense of accomplishment because the tea producers responded to the requests brilliantly. Of course, the ability to determine quality is important when purchasing tea, but I feel that the most important thing is the ability to determine the ability of tea producers. The human factor plays an important role to the final quality of the tea.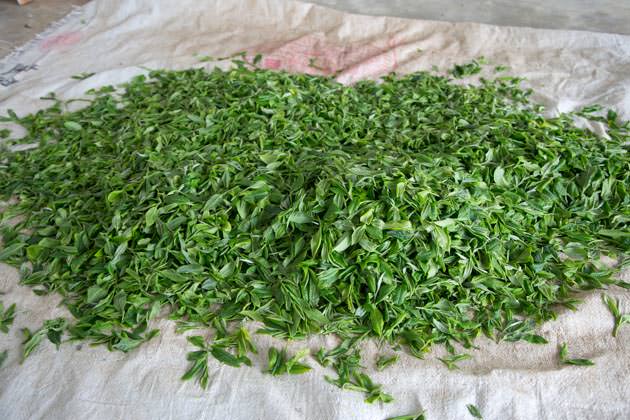 The fresh tea leaves collected from higher altitude of Ma An Shan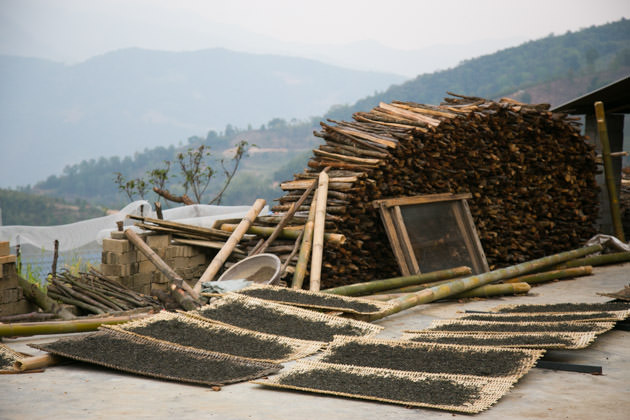 The sun-drying process of making Ma An Shan raw pu-erh tea after the pan-frying process.