Tie Guan Yin is a tea well-known as a type of teas commonly served in eatery. So, many people might have heard of it at least once. Tie Guan Yin is a specific variety of tea. For example, there are various varieties of durian such as Musang King, D101, D24, etc. There are many varieties of tea, and Tie Guan Yin is one of them. The tea tree of Tie Guan Yin grows slower than other varieties, so it has a strong aftertaste and a long-lasting finishing. Also, as a feature of the Tie Guan Yin variety, the tea is semi-fermented to produce an orchid-like scent. This Tie Guan Yin is medium baked, and it gives a toasted flavour like baked rice cracker with a hint of sweetness reminiscent of orchids.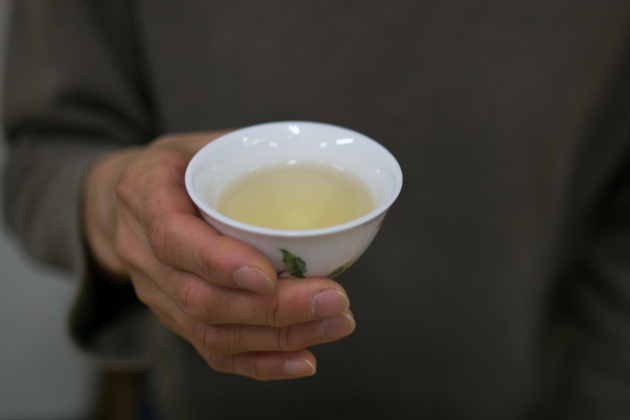 The spread of oolong tea in Wu Yi Mountain, Anxi, and Taiwan
Anxi is a county located in the northern part of Xiamen and is one of the three major oolong tea producing regions in China, along with Phoenix Town and Wu Yi mountain. In 1706, Wang Zi, the governor of Chong'an County, wrote the "Tea Theory", which stated that "with the increasing popularity of oolong tea from Wu Yi Mountain, the tea producers in Anxi started mimiting the Wu Yi oolong tea production method." However, another historical fact was that people from Anxi were engaged in making tea in Wu Yi mountain, and it was believed that they returned to their hometown of Anxi and started producing oolong tea. As an evidence of this fact, some of the tea producers in Wu Yi mountain speak Min-nan, a dialect of Anxi.
After the production method of oolong tea spread to Anxi, the Anxi tea developed its own original processing method, such as rolling (a method of kneading tea leaves into small  pearl shape). Anxi is the production center of oolong tea, which is very popular both in China and abroad. Anxi is also one of the hometowns of overseas Chinese in Southeast Asia, and the hometowns of many Taiwanese are Quanzhou and Xiamen, including Anxi. Historically, Anxi's tea-making traditions were brought to Taiwan by Min-nan immigrants, forming the basis of today's Taiwanese oolong tea.

Good quality Tie Guan Yin comes from high-altitude tea gardens
As with other teas, the higher the altitude, the better the quality of Tie Guan Yin tea. When it comes to altitude, people tend to focus only on Darjeeling and Taiwanese high mountain tea, but in fact, altitude is a very important factor that determines the quality of all kinds of tea. The higher the altitude, the longer the finishing and the less bitterness in taste. In addition, the quality of the tea flavor is improved, and the flavor is stronger. This medium fired Tie Guan Yin, is a tea made in Daping Village, Anxi County, Quanzhou City, Fujian Province, China. The tea garden is located at an altitude of 1000m-1300m.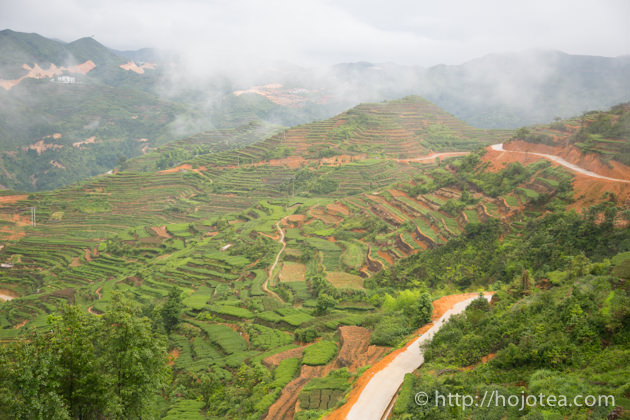 Medium fired is the name given to the method of roasting tea leaves to a moderate degree. Medium-fired Tie Guan Yin has both an orchid-like floral scent and a comfortable toasted aroma, making it a tea that everyone can enjoy. It is recommended for various occasions such as before meals, during meals, and after meals.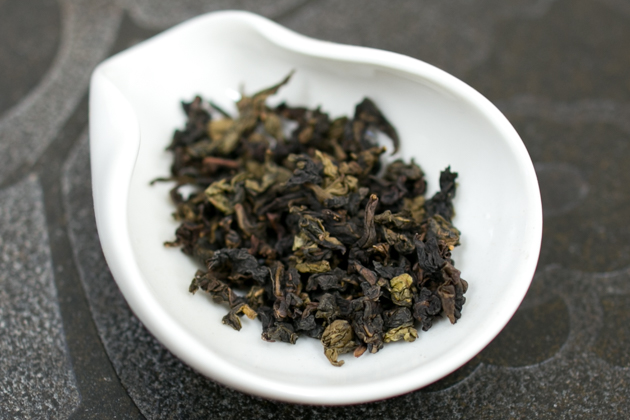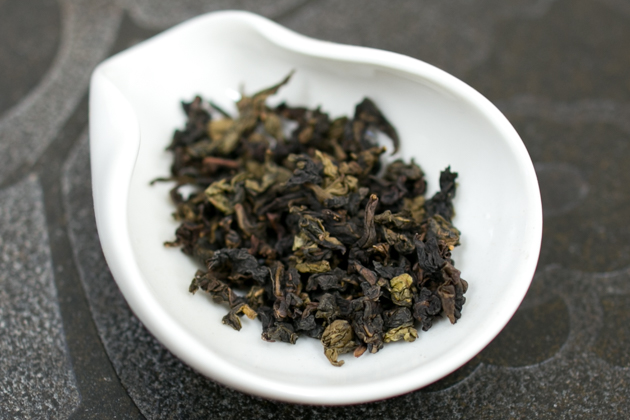 Analysis of pesticides for each purchased lot
Due to the high demand for tea from Fujian in China, the use of pesticides was almost unlimited. For this reason, HOJO has not dealt with Tie Guan Yin for more than 10 years. However, in recent years, there are tea makers in China who are conscious of exporting and producing tea that meets the pesticide standards for the EU and Japan. The farmer I purchase from are managing pesticides based on the pesticide guidelines issued by the Japanese government. By doing so, we purchased after confirming that it met Japan pesticide standard.

Import from primary processors who have tea gardens
HOJO keeps good relationships with tea producers who have their own tea gardens. So, we don't have to go through intermediaries or local wholesalers. The tea is directly from the tea gardens.