This is a rare and limited raw pu-erh tea produced in the area called Guo Gan in Myanmar. Although tea was produced not too long ago, it is nice to drink it even now. It has a rich taste with thick aftertaste and long-lasting finishing. Nevertheless, this tea ages very well, after a few more years, it will develop more intense flavor like dried fruits.  
Tea was collected in Myanmar near the Yunnan border
In Myanmar, Guo Gan is located next to the South West Yunnan. The population of Guo Gan consists of a number of Chinese minorities. In the town of Guo Gan, many people speak Chinese and many sign boards are written in Chinese. The Guo Gan autonomous region has very strong economic linkage with Yunnan. In particular, pu-erh tea is a very important trading item for them. In the history, there were always civil wars taking place in Guo Gan due to the conflicts between different tribes. In the past few years, they have had very severe fights. In 2016, they have temporarily ceased the war, although a number of conflict zones are still remained.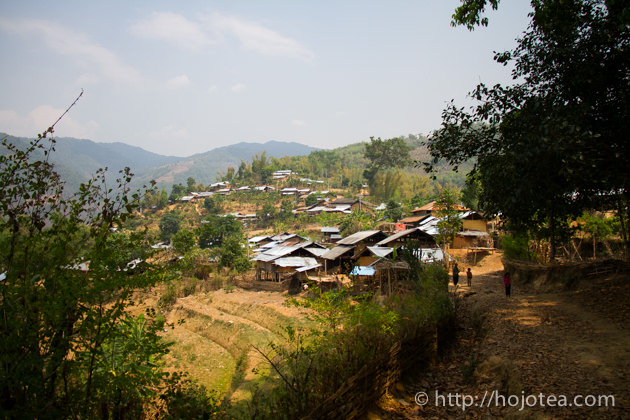 The village of Myanmar that is just a few houses away from the national border to China. In 2013, we visited there before the civil war begun.
Primary process in Myanmar and compression in Yunnan
Since the conflict zones are still in great danger, the China immigration department does not allow Chinese to travel to Guo Gan at the moment. Our tea was produced in 2017. The tea leaves were transported by farmers of Myanmar to Yunnan. They drove a track all the way to Yunnan to supply the mao-cha of raw pu-erh tea. Those farmers are the apprentices of the Yunnan pu-erh tea manufacturer. Before 2014, while Guo Gan was still in peace, the Yunnan tea manufacturer set up a factory in Guo Gan, and these farmers learned the skills of producing pu-erh tea from the Yunnan tea master. For now, even though there is no Chinese stationed in Guo Gan, the farmers have skills to process tea. As such, the Guo Gan raw pu-erh tea is made in the collaboration between the people of two countries. 
Tea is grown without fertilizer and pesticide
Even in Yunnan province, Guo Gan pu-erh tea is very rare and limited. It is because of most of the Guo Gan teas are purchased by specific people on the spot. Some people are aware of the quality of Guo Gan tea. Since the total production is not really a lot, most of Guo Gan pu-erh teas are bought right at the primary processing plant. In the past few years, the price of Guo Gan pu-erh tea has been gradually increased. However, some Guo Gan tea gives astringent taste and light after taste if it is sourced from the garden near the villages. Since we are highly aware of this issue, we look for the tea that gives long lasting after taste, clear drinking sensation and rich mouth-feel. Because of tea trees are grown in high mountain without any pesticide or fertilizer, tea is very rich in natural minerals and tea substances. Thus, the taste is complex, with strong body and deep aftertaste lingering down the throat. Its quality will be even greater after it is aged.