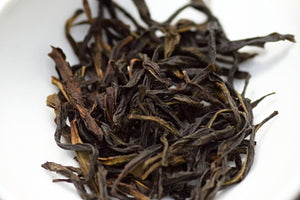 Ba Xian in Chinese means The Eight Immortals. It is one of the very classic and famous Phoenix teas. Its direct parent is Shui Xian cultivar. Therefore, it has some close characters of both Shui Xian and Song Zhong. Since this tea is very popular in Phoenix town, the quality varies a lot depending on the age of tree, altitude and growing condition. In particular, those teas produced from young tree (below 100 years old) or those produced from garden tea is completely different in terms of quality and flavor. We are very fond of the flavor of Ba Xian and therefore we wanted to introduce impressive quality. 
We particularly selected Ba Xian produced from very old tea trees grown at high altitude of above 1000m high mountain in Phoenix.

This tea gives a multi-layers of fruity note like apricots or peaches with a sweet floral note. It has a strong aftertaste that travels down the throat and lingers for a long time on palate.