This tea is produced in a tea garden located at an elevation of approximately 700 meters in the Wu Dong mountain of Phoenix, at Gui Zhu Lake Village.
The tea trees have an age of about 50 years, which is considered old trees and on par with the quality of Lao Cong (old tree of Phoenix Dan Cong).
As the name suggests, the Mi Tao tea has a very sweet aroma.
The name "Mi Tao" translates to "Honey Peach" in English, and this translation is quite fitting as the Mi Tao Xiang tea lives up to its name with its exceptionally sweet aroma. When it comes to aroma characteristics, it shares some similarities with the Mi Lan Xiang fragrance.
However, these two teas are crafted from distinct cultivars. What distinguishes the Mi Tao Xiang is its source from the "Xiang Dong" cultivar, whereas the Mi Lan Xiang primarily utilizes the "Bai Ye" cultivar.
The producer has taken a unique approach, implementing a more intensive fermentation (enzymatic oxidation), combined with slightly longer charcoal roasting process resulting in a robust flavor profile. Consequently, the tea exhibits a beautiful yellow-orange hue and a rich, full-bodied flavor.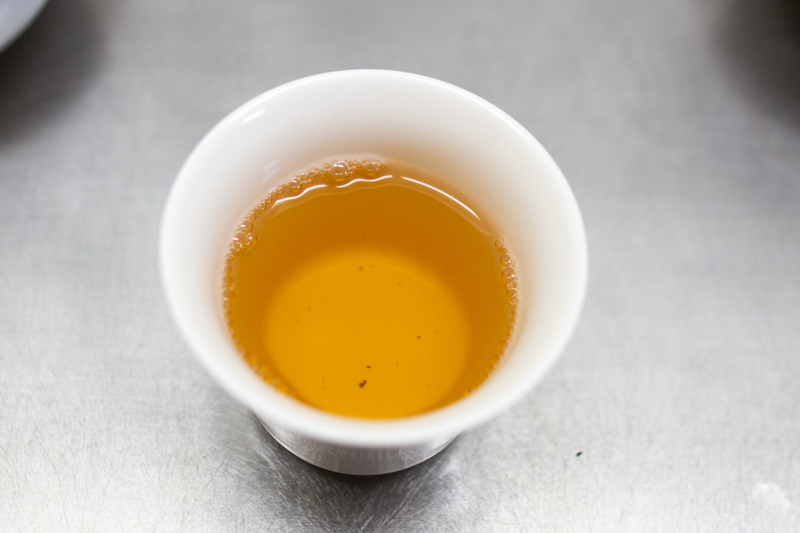 In addition to the lychee-like essence layered atop the sweet, fruity note of fresh peaches, it also evokes flavors reminiscent of strawberry jam and a nectar-like sweetness.
Thanks to the relatively mature age of the tea trees, the aftertaste lingers, making it an excellent pairing with desserts.