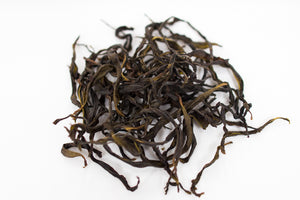 Xiong Di Zai is a very popular Phoenix tea among the locals in Phoenix Town.
In 2019, generally the rainfall was more than previous years. So the flavor of tea is a little milder than usual year, but instead you can get tea produced from old trees now at lower cost than usual years, because normally it is sold at much higher price as it is a Lao Cong (old tree Phoenix Oolong always command a high price, especially when it is a good production year in terms of the weather).
For this reason, the tea is very soft in terms of taste and it has a long-lasting finishing. Tea is carefully baked with traditional charcoal fire at 100 ℃ or less for a long time. It is finished in a gentle refreshing type.
Its flavor reminiscent of raspberries, mulberries, strawberries, etc; it is a berry-based scents.
For refreshing type of tea, the water quality and tea ware used greatly affects to its flavor and taste. If the conditions are met, you can enjoy a sweet and gentle tea flavor. If you found that the outcome is not to your liking, try changing the water and/or tea ware instead of brewing.