Literally, the single tree tea is harvested and processed only from one single tea tree. Each micro lot of single tree tea is about a few kilograms, and each has a different drinking sensation in terms of body, aftertaste and flavor too. Every micro lot is produced from a few hundred years old tea tree. The extent of aftertaste is very deep and long-lasting.

Each single tree tea is sourced from the high mountain in west Lincang, the altitude is at around 2000-2200m.
Why isn't the name "single-tree tea" famous despite it is of ultra-high quality? Even if you look at a tea book, you rarely see the name "single-tree tea". It has to do with the fact that single-tree tea is very rare. The demand for single-tree tea is unusually high, and it is often sold out before it leaves the producer's factory, so it's hardly found outside its origin production site.
In recent years, it is quite common for buyers to come to the tea plantation and they buy the fresh tea leaves before the tea picking is finished. Many single-tree teas are bought by enthusiastic collectors of tea, business owners, and other people who emphasizes on quality. The tea is sold out locally and rarely appears on the tea market, so it can be said that Single Tree Tea is like a phantom tea for Chinese tea lovers living overseas. It is a privilege of us who stay in Yunnan for a long time to purchase single tree tea.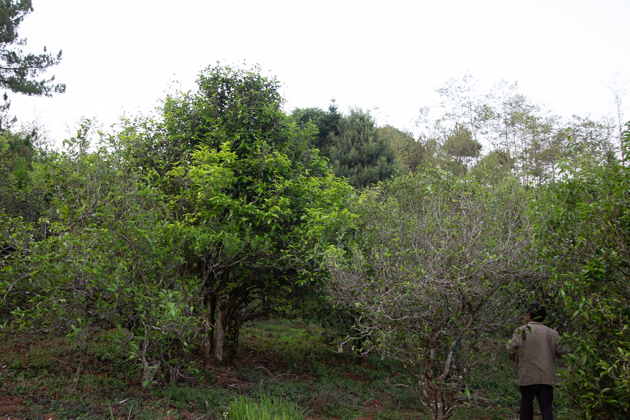 Thick Taste of Old Tree
We selected particularly old tea tree for making single tree tea.
The reason why we choose the old tea tree is not because of the yield.
It is because of the older the tree is, the better the quality of tea it becomes.
This is not only happened for tea but also for fruits and wild herbs too.
Although old tree has very long roots deep down into the ground, it grows at very slow speed. Therefore, old tree is extremely rich in minerals and the taste of tea becomes very thick.
In fact, the thickness in taste is very easy to detect with the presence of sweetness. Therefore, most of people can easily tell the thickness of fruit, juice or even ice cream. On the other hand, it is not very easy for everyone to feel the thickness in tea.
Many people tend to feel the softness, long-lasting taste or depth when they taste good tea, but not so easy to detect the thickness of taste. For me, if I describe the single tree tea, it is like a fine liquid that makes my body feel delighted.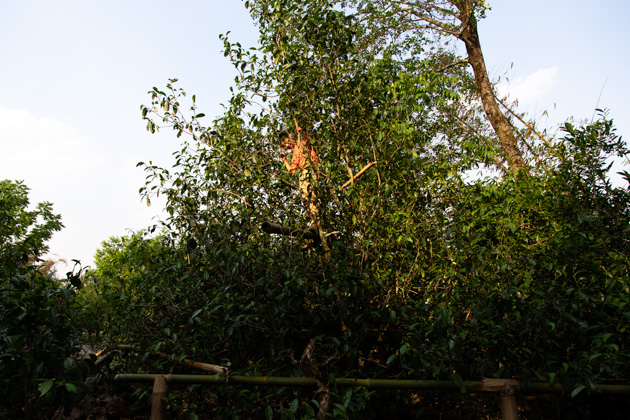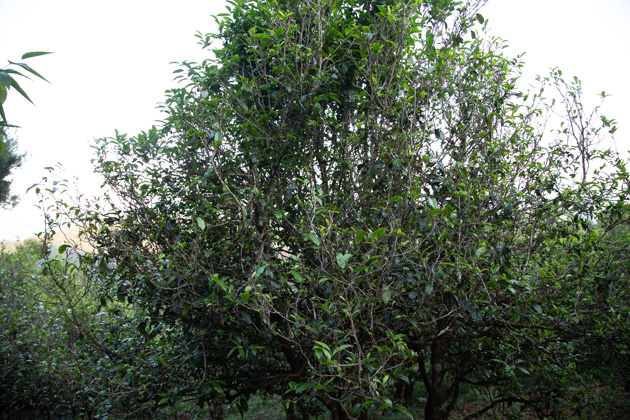 Single Tree Tea is the ultimate tea
Usually, for making our standard pu-erh tea, the fresh leaves are collected based on garden basis. Each lot consists of tealeaf collected from multiple number of tea trees from the respective garden. Therefore, the quality is even-out within a garden.
On the contrary, single tree tea is made from one selected tea tree. The quality is outstanding, and with very distinctive characteristic.
For making the single tree tea, usually we select very old tea tree from sustainable tea garden (no any fertilizer or pesticide is used).
However, not all old tea trees produce ideal quality. Once fertilizer is used, the old tree starts growing faster and the quality drops. Thus, it is very important for us to select the right tea tree.
In 2019 we stationed in Yunnan for two months in order to select the ideal tea tree, and we managed the entire manufacturing process starting from the collection of fresh tea leaf until it is compressed into tea cake, to ensure that every processing step is according to our specific quality criteria.