Tie Guan Yin is a well-known tea served in many restaurants.
This Tie Guan Yin gives a refreshing type of floral. Tea is harvested in spring, and it's not roasted. It gives a sweet floral flavor like orchids with smooth drinking sensation.
This tea is made in Xiang Hua Fu Xin village (祥华福新村). This village is located in Anxi, Fujian Province of China. It's made from genuine Tie Guan Yin cultivar.

Tie Guan Yin is a name of cultivar
The original meaning of Tie Guan Yin is the oolong tea made of a tea cultivar called Tie Guan Yin. Anxi is the core production area of Tie Guan Yin. Besides Tie Guan Yin, there are many other cultivars of tea, such as Mao Xie, Rou Gui, Ben Shan, Huang Jin Gui and so on. It is quite a common practice that those non-Tie Guan Yin cultivars are introduced as Tie Guan Yin. But, the authentic Tie Guan Yin has a very distinctive flavor and taste that is different from oolong tea made from other cultivars. The Tie Guan Yin cultivar gives a rich taste and deep finishing as its unique characteristics. The well-processed Tie Guan Yin oolong also gives a sweet floral flavor like orchids.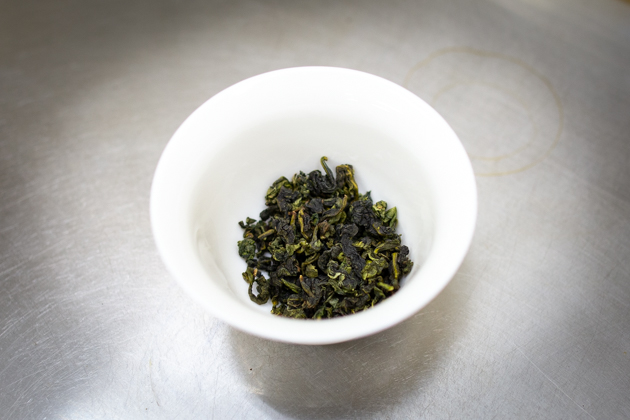 Elevation is an important element of tea quality in Anxi
An important element which affects the quality of Tie Guan Yin is the elevation of tea gardens.The higher the elevation, the thicker its flavor and taste becomes. So, the tea made from higher elevation commands a higher price too. Our Tie Guan Yin Qin Xiang is collected from a tea garden located at an elevation of 1100~1200 meters. HOJO selected Tie Guan Yin in spring. The spring tea has a soft and smooth taste, and it gives a refined drinking sensation. The application of fertilizer is also an important element that affects the quality of Tie Guan Yin. If less fertilizer (no fertilizer is the best), the slower tea grows. The quality of tea gets better if it takes longer time to grow because tea will then accumulate more substances and minerals, and the taste and flavor becomes richer and the aftertaste is deeper too.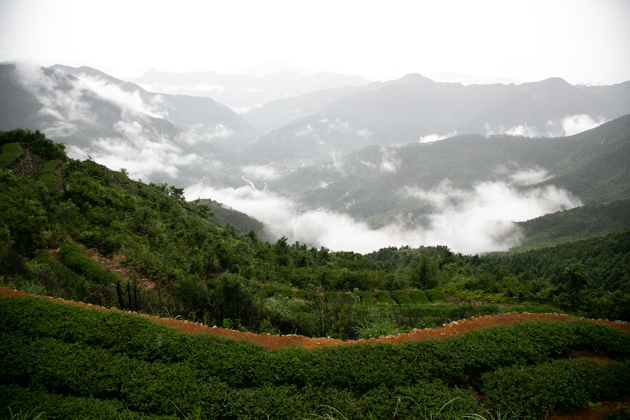 Strong flavor of flower which sweeps away oolong tea's preconception
The name Tie Guan Yin is often used for bottled oolong tea. So, some people may associate Tie Guan Yin as a roasted oolong tea. In fact, the roasted style of Tie Guan Yin is popular too.
The flavor of Qing Xiang Type is completely different from the roasted type. Qing Xiang Type has a sweet floral note like orchids. The taste is pure, transparent and long-lasting lingering sweetish sensation on the palate. People who drink Qing Xiang Type for the first time will be surprised at the gap between the stereotype of oolong tea and Qing Xiang Type.
The reason why Tie Guan Yin tea leaves have a broken leaf edge.
Tie Guan Yin Qing Xiang type is giving a sweet floral flavor. So, it is often thought that it is lightly-fermented oolong tea because of its floral flavor. But in fact, it is a heavily-fermented oolong tea. Compared to Taiwan tea, for making Tie Guan Yin, more grown up and matured tea leaves are picked. The matured leaf is able to withstand heavier fermentation. After fermentation, the tea leaf becomes reddish brown at the edge, and the middle part remains green. This reason is during vigorous tossing action to initiate the fermentation of the tea leaf, the edge of the tea leaf gets more friction and that causes heavier fermentation.
The brown edge has a flavor like fruits, and the green middle part has a flavor like flowers.
The producer of Tie Guan Yin removes the brown edge and only remains the green part in order to keep the flavor like flowers. Because of this work, Tie Guan Yin leaves look shabby and the edge of tea is like wormholes. The sophisticated floral flavor of Tie Guan Yin is enhanced thanks to that extra work.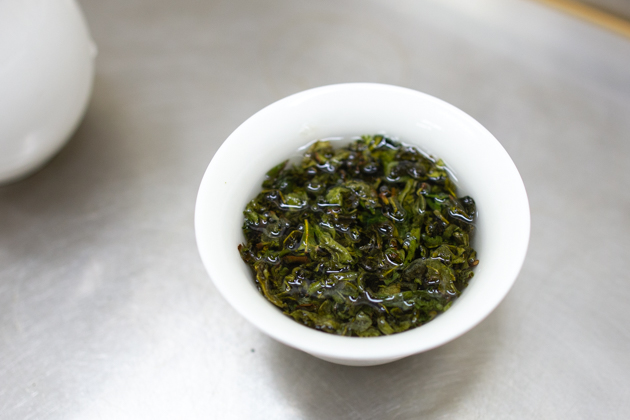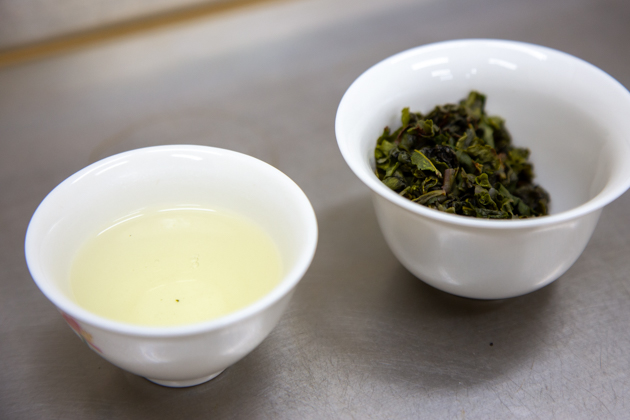 Import from primary processors who have tea gardens
HOJO keeps good relationships with tea producers who have their own tea gardens. So, we don't have to go through intermediaries or local wholesalers. The tea is directly from the tea gardens.