Anxi's famous tea is Tie Guan Yin. The name of Tie Guan Yin is originally referring to a specific cultivar. In a way, Tie Guan Yin is the oolong tea produced from Tie Guan Yin cultivar. In other context, some may name a tea as Tie Guan Yin on the assumption that tea was produced with the standard method of making a Tie Guan Yin tea. Under the circumstances, other tea cultivars are often processed and sold as Tie Guan Yin. Nevertheless, we only search for the tea made of Tie Guan Yin cultivar, as it is originally defined.
In Anxi, Tie Guan Yin was invented during Qing Dynasty. Beforehand, other types of tea like white tea and green tea had been produced. Tie Guan Yin is one of the most famous types of Chinese tea and has been very popular for centuries. No doubt that Tie Guan Yin tea can be found in the menu of most Chinese restaurants throughout the world. Other than the huge demand of Tie Guan Yin in the world's tea market, this tea is often sought after in China domestic tea market, not only for own consumption, it is one of the top-listed teas as the gift tea in many occasion.

The massive market demand has driven the vast production of Tie Guan Yin tea. The production is carried out all year round, starting from spring to winter. Without the application of pesticide and fertilizer, it's hard to manage the output to meet the demand of the market. Thus, despite the output is huge, we faced difficulty in obtaining the quality tea that complies with Japan pesticide standard. After all, we only selected a limited quantity of spring tea that complies with the standard.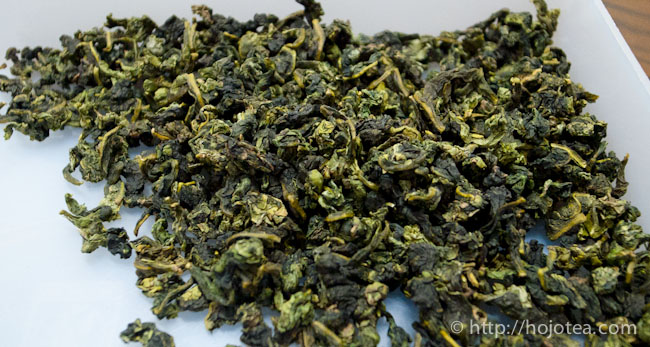 The technology in making Tie Guan Yin was handed over from Wuyi area. Originally, Tie Guan Yin was also heavily baked just like Wuyi oolong tea. However, nowadays Tie Guan Yin that was not baked becomes more popular. The non-baked type is called Qing Xiang (or sometimes it's called Green Type), and it is vivid green in colour.
It is hard to believe that the flavor is natural.
Some tea books often describe that the flavour of Qing Xiang Tie Guan Yin reminds us of orchid bouquet. To me, its aroma is somewhat fruity, like fresh young peach.Tea liquor is bright and clear, with light yellowish green colour. Anyone who tried the Qing Xiang Tie Guan Yin for the first time will be surprised by its strikingly intense flavour. It is hard to believe that its flavour is natural and produced from the process. Quite a number of tourists fell in love with Chinese tea just because they tried Qing Xiang Tie Guan Yin during their visit in China.
It is green. But it actually is deeply fermented.
Many people say that modern Tie Guan Yin is just like the green tea because of the dry leaf is greenish in colour.
However, this is absolutely wrong judgement. In fact, Tie Guan Yin is a highly fermented tea despite its colour is green.
Tie Guan Yin is a highly fermented tea. Although it looks as green as green tea, it is very different from green tea. Tie Guan Yin's fermentation rate is higher than Taiwan high mountain oolong tea. After the fermentation process, the edge of Tie Guan Yin's leaf appears red in colour.
As a typical process of Tie Guan Yin, the red edge is removed from the leaf, although there are some exceptional cases.
Traditionally, the red edge was removed by hand. Nowadays, the manual process has been replaced by machinery.
Because of the above process in Tie Guan Yin, we may find that the brewed leaf does not look beautiful, even though it is of high quality. If you just judge its quality from the appearance, it looks like a very low-end tea.
After rolling process, Tie Guan Yin tea still contains branches. If you look at the dry leaf, you would notice the protruding brown colour branch.
The branch affects to the taste of Tie Guan Yin tea, moreover it does not look elegant. Thus, after the primary drying process, the branches are removed manually. In May to June, if you visit Anxi area, you will notice that many people are working very hard to remove the branch of Tie Guan Yin tea.
The uniqueness of Tie Guan Yin's process
In Anxi, tea starts sprouting in March. During this period, most of teas in China is plucked and processed.
However, Tie Guan Yin is not plucked in March or April. The plucking is carried out only when the tea is grown-up and matured. By that time, the leaf becomes very big and stiff.
| | | |
| --- | --- | --- |
| | | |
| The very grown up twigs are used for making Tie Guan Yin. | | The leaf during fermentation |
When Tie Guan Yin leaf is plucked in May, no bud remains and the colour of stem turns from green to reddish brown. It is literally a branch. In order to produce the specific flavour of Tie Guan Yin, it is necessary to include the grown-up branch together with the leaves.  These grown-up leaves are very rich in polyphenols, while upon fermentation, it produces typical Tie Guan Yin flavour. Besides, with higher content of polyphenol, tea contains more minerals. This is why Tie Guan Yin relatively gives stronger aftertaste than ordinary oolong tea.