It is made from high-quality tea leaves harvested in the spring, giving it a distinct and delightful flavor. This tea is renowned for its profound aftertaste and smooth, layered taste and aroma. When you take your first sip, you'll be captivated by its strong fragrance, reminiscent of orchids and young, fresh peaches.
Anxi's famous tea is called Tie Guan Yin. This name originally referred to a specific type of tea plant. Tie Guan Yin is a special kind of oolong tea made from that particular plant. However, some teas are also labeled as Tie Guan Yin just because they are made using the same method as the original tea. This can sometimes lead to confusion, as other tea plants are sold as Tie Guan Yin.
But fear not! We are on a mission to find the real deal – the tea made from the original Tie Guan Yin plant, just as it was meant to be. So, join us on this quest to discover the true essence of Anxi's beloved Tie Guan Yin tea, with its unique and delightful flavors waiting to be savored!
In Anxi, the creation of Tie Guan Yin dates back to the Qing Dynasty. Before that time, various teas like white tea and green tea were already being produced. Over the centuries, Tie Guan Yin has emerged as one of the most renowned types of Chinese tea, captivating tea enthusiasts far and wide. Its popularity has endured through the ages.
Indeed, you can easily find Tie Guan Yin tea on the menu of almost every Chinese restaurant across the globe, such is its global demand. However, its allure doesn't stop there. Within China's domestic tea market, Tie Guan Yin is highly sought after not only for personal consumption but also as a cherished gift tea for various occasions.
With its rich history and unmistakable flavor, Tie Guan Yin has rightfully earned its place among the top-listed teas, cherished by tea lovers and gift-givers alike. Its journey from the hills of Anxi to the world's tea cups is a testament to its enduring appeal.
The immense market demand for Tie Guan Yin tea has resulted in extensive year-round production, spanning from spring to winter. Without a doubt, not using fertilizers and pesticides in the tea gardens makes it very challenging to meet the high market demand for Tie Guan Yin tea.
In order to achieve a high output to meet market demand, fertilizers are used. However, this can lead to increased insect attacks during the warm and humid summer months, necessitating the use of pesticides for control. As a result, obtaining Tie Guan Yin tea that meets Japan's stringent standards for both quality and safety becomes a significant challenge.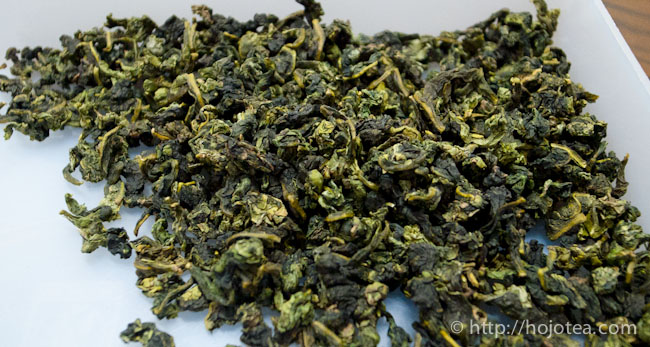 The art of making Tie Guan Yin was originally passed down from the Wuyi area. Initially, Tie Guan Yin was heavily baked, similar to Wuyi oolong tea. However, in modern times, the unbaked variety of Tie Guan Yin has gained more popularity. This non-baked type is known as Qing Xiang (or Green Type) and is easily identifiable by its vibrant green color.
It is hard to believe that the flavor is natural.
In many tea books, Qing Xiang Tie Guan Yin is often described as having a fragrance reminiscent of an orchid bouquet. However, to me, its aroma carries fruity notes, akin to that of fresh young peaches. The tea liquor exudes a bright and clear appearance with a light yellowish-green color.
For those trying Qing Xiang Tie Guan Yin for the first time, its remarkably intense flavor comes as a delightful surprise. It's hard to believe that such a rich and natural taste arises solely from the tea-making process. In fact, numerous tourists have fallen in love with Chinese tea after experiencing the remarkable flavors of Qing Xiang Tie Guan Yin during their visit to China.
It is green. But it actually is deeply fermented.
Many people mistakenly associate modern Tie Guan Yin with green tea due to its greenish color in its dry leaf form. However, this judgment is entirely incorrect. In reality, Tie Guan Yin is a highly fermented tea, despite its green appearance.
Although Tie Guan Yin shares a green color with green tea, it is vastly different in terms of fermentation. In fact, Tie Guan Yin undergoes a higher level of fermentation compared to Taiwan's high mountain oolong tea. This fermentation process results in the edges of the Tie Guan Yin leaves turning red.
Traditionally, the red edges of the leaves were removed by hand, but nowadays, this step has been automated with machinery. This process, however, might give the brewed leaf a less visually appealing appearance, even though the tea is of high quality. Judging the quality of Tie Guan Yin solely based on its appearance may lead to misconceptions, as it may resemble a lower-grade tea.
After the rolling process, Tie Guan Yin tea still contains branches, which not only affect its taste but also its elegance. As a result, the branches are manually removed after the primary drying process. If you visit Anxi area in May to June, you will witness the hard work of many people diligently removing the branches from Tie Guan Yin tea.
The uniqueness of Tie Guan Yin's process
In Anxi, tea plants start sprouting in March. During this time, most teas in China are plucked and processed. However, Tie Guan Yin follows a different schedule and is not plucked in March or April. Its plucking occurs only when the tea plants have grown and matured. At this stage, the leaves have become significantly larger and rigid.
| | | |
| --- | --- | --- |
| | | |
| Tie Guan Yin is made using the fully grown twigs of the tea plant. | | The leaf during fermentation |
When plucking Tie Guan Yin leaves in May, no buds remain, and the stems change color from green to reddish-brown, resembling literal branches. To achieve the specific flavor of Tie Guan Yin, it is essential to include these fully grown branches along with the leaves. These mature leaves are abundant in polyphenols, and during fermentation, they produce the distinctive flavor characteristic of Tie Guan Yin tea.
Additionally, due to the higher polyphenol content, Tie Guan Yin contains more minerals, which contribute to its stronger and lingering aftertaste compared to ordinary oolong teas.