Wu Liang Shan Raw Pu-erh Tea is made from old tea trees grown at one of the famous mountain range in Yunnan called Wu Liang Mountain. Thanks to the natural-farming tea garden, old tea tree, and high altitude, this tea gives a smooth drinking sensation with deep aftertaste. Tea can be easily enjoyed when tea is freshly produced, and it's very suitable for further aging/maturation too. Tea has been kept in Malaysia weather since 2018, tea has developed lingering fruity sweetness. Its taste is very smooth, no bitterness or astringency. It's a daily drinking tea, can be enjoyed at work or at home, because of tea is not bitter or astringency, it can be brewed using a simple glass or porcelain tea pot/gaiwan or mug. 

Wu Liang Shan has many old tea trees
Wu Liang Shan is a range of mountain situated at the South West of Yunnan. Wu Liang Shan mountain covered about 400km in distance. In Wu Liang Shan, there are many small villages and they grow tea for living. Those tea gardens were owned by ethnic minority people. Traditionally, tea gardens are left unattended. Tea trees are left in nature just like other wild plants.Before spring tea season begins, they remove weeds and wild plant so that is it easier for tea plucking. Traditionally, this is the way they used to practice, it's called natural farming style.
However, recently, as the demand of tea increased, more and more farmers started to apply fertilizers. They may call it organic fertilizer as it is collected from their cattle. However, regardless of organic or inorganic, fertilizer will boost the growing speed of tea. So, it is important to look for the tea grown without fertilizer. So, we spent some time to find the garden located at more remote area that consists of very old tea trees, and are kept in natural condition and not using fertilizer or pesticide.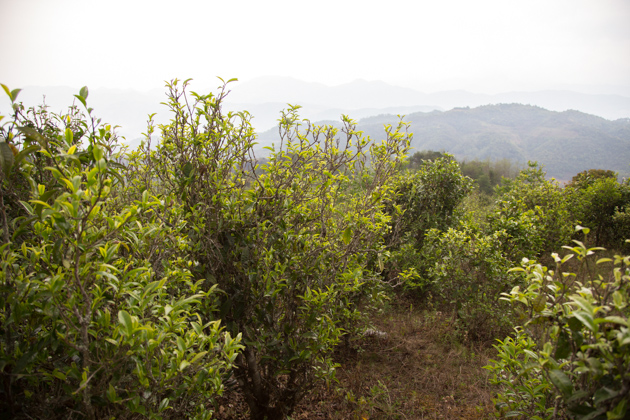 The natural farming tea garden in Wu Liang Shan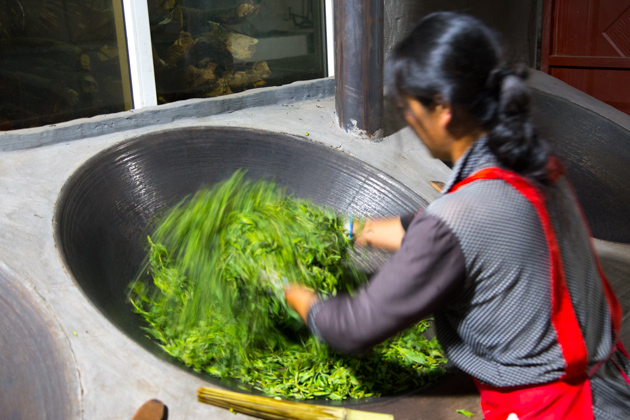 The compression affects a lot to the characteristic of tea
Usually, pu-erh tea manufacturer only supply us with the loose leaf called Mao-cha. We then look for the factory who specialize in compression. For compressing tea, they apply steam to soften the tea leaf and then compress using stone mould. Once tea is compressed, it is important to effectively dry the tea cake in order to get a refreshing flavour. It is not very easy to dry the tea cake, and if the moisture is trapped inside the tea cake for a long time, tea cake will gives stale flavour. So different people use different drying method. Among tea manufacturers and tea merchant, the drying method of pu-erh cake is always a very hot topic. When we made Wu Liang Shan 2014, 2015 and 2016, we used hybrid drying method using warm air below 40 degree C and then continue with natural drying. This method enhances the flavour. This year, we used 100% natural drying method. This method makes the flavour of tea very delicate and rich. Tea will gives thicker taste too.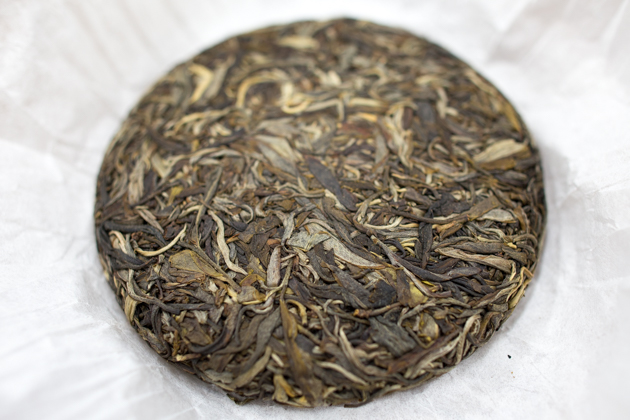 Wu Liang Shan raw pu-erh tea is suitable for aging
Wu Liang Shan raw pu-erh tea is suitable for aging. It is better to keep tea without oxygen for a few years. In our experience, pu-erh tea that is exposed to atmosphere tends to develop off-flavour at the early stage of aging. On the other hand, if tea is kept without oxygen, it develops nothing but sweet flavour. If you want to speed up the aging, firstly keep tea in a bag without oxygen for a few years and then remove tea from the bag and continue to age tea under the atmosphere. Once tea is aged for a few years without oxygen, the substance becomes stable so that it may not easily generate off flavor. Nevertheless, personally, I prefer very clean and sweet flavour. So, I keep tea without oxygen all the time. After aging tea for some time, when the bag is freshly opened, it is necessary to expose tea for more than a week. It is just like decanting wine. Tea will get in contact with the air for some time and it will then gives mellower taste and more intense flavour.