In 2017 we were able to select the very good quality raw material from Yan Ming Shan. After aging for years in Malaysia, tea has developed a sweet scent reminiscent of sugar cane and honey-like flavor. It has a rich flavor with smooth and clear drinking sensation with long-lasting aftertaste down the throat.
This tea gardens is located on the high mountains around Zhen Kang, in the western part of Lincang, Yunnan. Tea is hand-picked from old tea trees in March, before Qing Ming. Each twig consists of 1 bud with 2 leaves. Normally, the standard plucking standard of pu-erh tea is of 1 bud with 2-3 leaves. For this Yan Ming Shan Raw pu-erh, the taste is thicker and richer as it contains more tea buds. It is impressive that it has a delicate drinking sensation and refreshing citrus aroma with sweet finishing down the throat.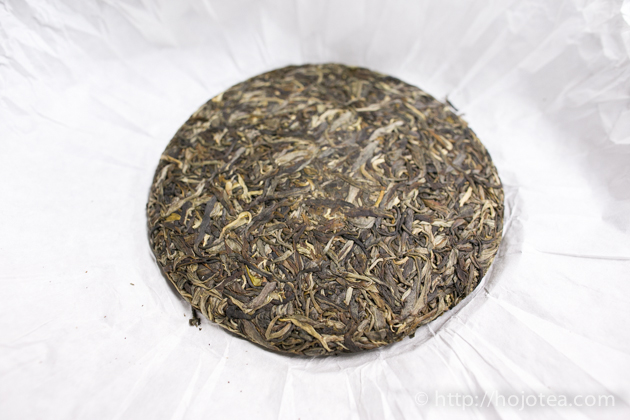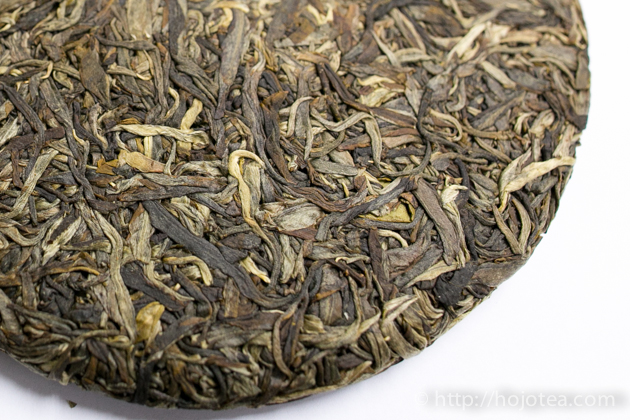 This tea is made from natural farming tea; no pesticide or fertilizer is given to the tea trees. So, tea trees grow slowly. Tea becomes very rich in minerals and tea substances. Your body will feel warm after drinking this tea. Because this tea is rich in minerals, your body will feel relaxed like after drinking good wine, and some people might get tea-drunk feeling. This tea is not bitter or astringent, you can enjoy a thick brew, or just a few seconds of quick brewing is good enough to bring out its fullness in taste and flavor.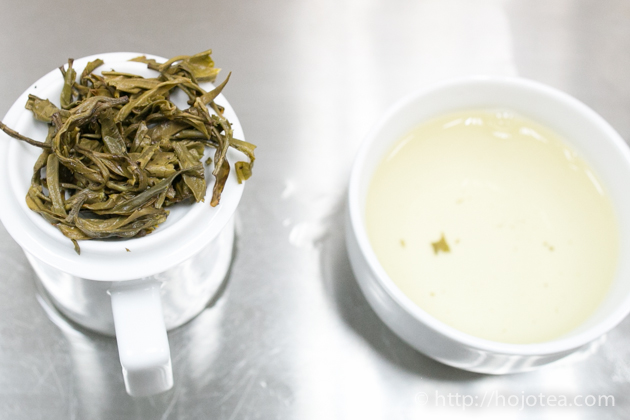 This tea is well-made with a lot of care. It gives a comfortable and pleasant drinking sensation in both taste and flavor. It has no odd flavor or scorched aroma, or stale flavour like old furniture. For this reason, some people might misunderstand that it is a white tea or green tea.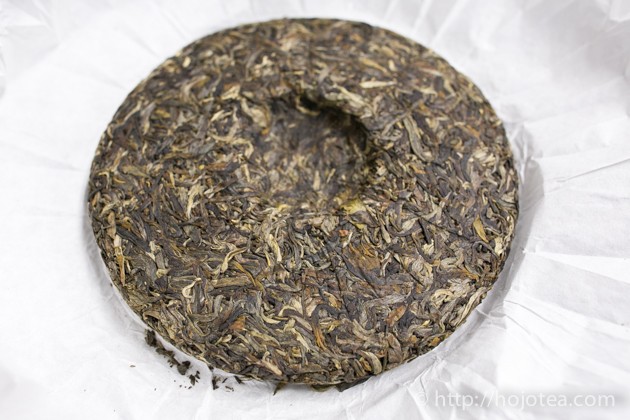 This tea is popular among children as it is rich in minerals and taste naturally sweet. Normally, children and even adults would prefer the tea with mild scent and soft taste with lingering sweetness. It is the identical characteristic of natural farming tea.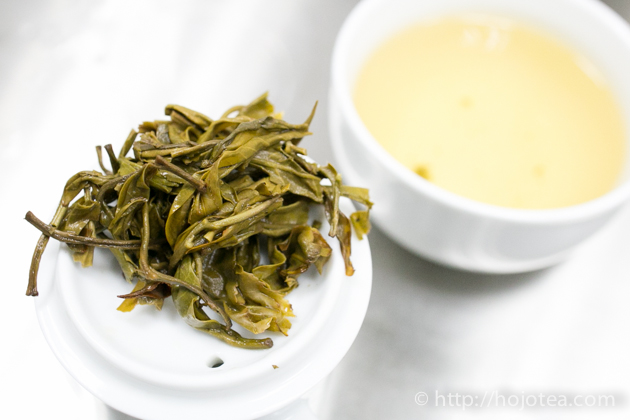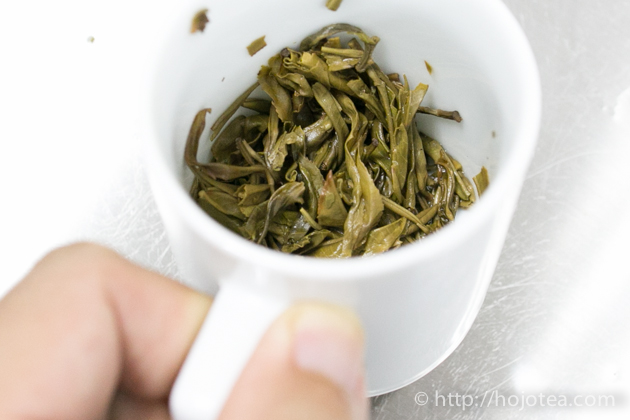 Yan Ming Shan Raw Pu-erh tea is produced from few hundred years old tea trees. It is reflected by the elegant flavor and soft taste of tea. After aging for a few years, tea produces a very outstanding sweet scent like dried fruits or raw honey. It's always fun to enjoy the changes of flavor and drinking sensation of tea over time.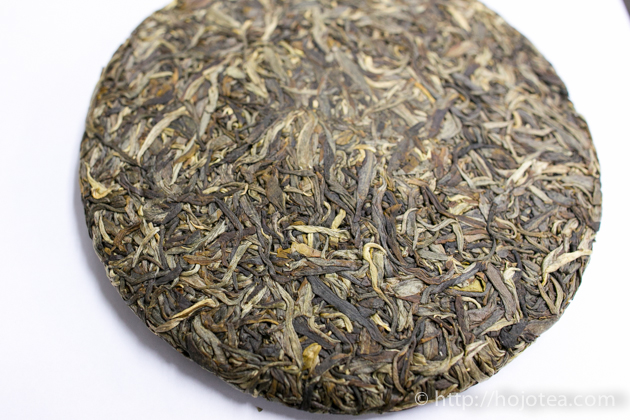 I think the real thrill of drinking Pu-er tea is that you can enjoy the extremely strong taste of naturally-farming tea at a low price.
In fact, if you want to get the oolong tea, green tea, or black tea of ​​the same level of quality material, the price will be unimaginably high.
However, not all Pu-er teas in Yunnan are from natural-farming tea garden and can meet these requirements.
In recent years, due to the development of infrastructure, the road built has make the access to remote tea mountain become easier and faster. The tour to tea mountain becomes a boom. In fact, more than 90% of the Pu-erh tea producing areas in Yunnan, and more than 99% of teas that I have tasted, I noticed that the natural farming tea becomes very rare in Yunnan nowadays. The traditional natural farming method that has continued for thousands of years are now shifting to a modern agricultural method that used fertilizers and pesticides.
With modern agricultural method, tea trees grow faster and produces more tea leaves, so tea taste becomes lighter, lacks richness and weak in aftertaste yet the price rise unnecessary. Every year, we stay in Yunnan for nearly two months to search for the natural farming tea garden that still preserve the traditional farming method. Without using any fertilizer or pesticide, the taste of tea is much richer and complex and the extent of aftertaste is fascinating. If you want to buy quality tea, you have to go to remote areas in the mountains.
The natural-farming tea garden: it is a well-balanced ecology, the tea tree is just part of the nature. No pesticide, or fertilizer or herbicide is used on the tea garden.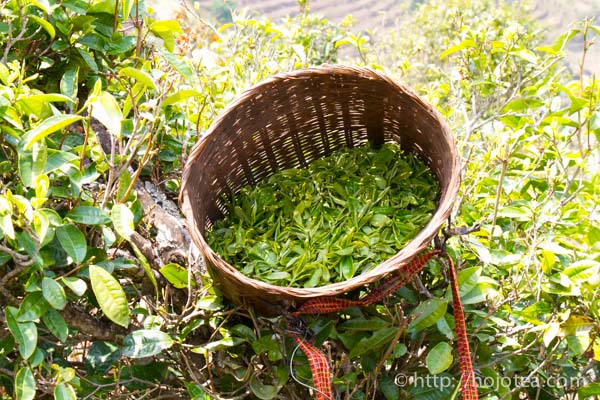 Why are tea enthusiasts fascinated with pu-erh tea?

In terms of aroma, I don't think there is any tea could gives better flavor than high quality oolong tea. Well-aged Pu-erh tea has a wonderful aroma, but the advantage of Pu-erh tea is its taste.
Talking about Pu-er tea, if the tea trees are grown without using fertilizers or pesticides, and it is made traditionally by ethnic minorities in the hinterland of Yunnan, tea has a very soft and rich taste.
Especially when it comes to tea made from a tree that grows slowly like a wild tree in nature, its sweetness and roundness in taste cannot be expressed in words.
If you ask for oolong tea of ​​the same quality level, it will be as expensive as the prize-winning tea of ​​the competition, and it will cause fatal damage to your wallet.
For Pu-erh tea, because it is made in the remote mountains, incredibly high quality tea leaves are available at much affordable prices.
For this reason, the interesting points for enjoying Pu-erh tea is its rich taste, a rich sweetness, and a soft water quality that can be transmitted through the throat.

Furthermore, for Pu-erh tea, when it is aged well, it produces a sweet aroma like raw honey, and tea must be aged in a proper way to get a sweet aroma.