Yun Xian Ripe Pu-erh tea is made from naturally grown tea. We chose tea that has a deep aftertaste and smooth drinking sensation. It has a sweet flavor reminiscent of dried prunes and dried jujubes, and is very easy to drink. After opening the bag, let the tea aerates for a while (like a week), it will make the flavor stronger and make it more satisfying to drink.
Some people might find it difficult to handle the tea brick because the tea leaf is compressed tightly. But do not worry about this, if you wish to receive it in a smaller pieces, you can leave us a message when you place an order, we will then dismantle it into smaller pieces and vacuum seal it back in aluminum zipper bag. 
Even for a tea amateur, it is not difficult to obtain Pu-erh tea, not only in Yunnan but other locations in China too.
If you go sightseeing in China, many tourists buy Pu-erh tea as a souvenir, and nearly 80% of it will be a Pu-erh tea.
I often hear people say, "It's a very good tea since I bought it in China". However, the reality is that most of these teas are of unbalanced quality with the amount of money paid.
The overall quality of Pu-erh tea is determined by the balance between the thickness of the taste and the type of aroma.
Unlike raw pu-erh tea, ripe pu-erh tea has a complicated manufacturing process, it involves fermentation by microorganisms, so it is rarely made by individual farmers. So, it is common to say that the production of ripe pu-erh tea is the factory.

Naturally, the factory has employees. Employee salaries and equipment costs must be paid regardless of whether the tea sells or not.
In other words, compared to individual farmers who only have to live on their own, fixed costs are higher in factories, and in order to recover those fixed costs, it is the factory's mission to sell "quantity".
For this reason, the basic concept of ripe pu-erh tea production is to purchase the raw material (tea leaves) at lower cost and to produce a large amount of tea. For producing ripe pu-erh tea, the quantity produced per batch is counted by the unit tons at factories, whereas for individual farmers, they are referring to a few hundred kilograms per year of production volume.
If you want to sell a lot of tea, the quality must be uniform. The quality of tens of tons of tea cannot be sold separately. For this reason, the factory blends tea leaves. The quality is homogenized by blending.
Some people believe that blending is a quality-forming technique or secret of Pu-erh tea, but in factory, the blending has a different purpose: the purpose of blending is only to homogenize the quality. In many cases, it is common to blend three types of tea: spring tea, summer tea, and autumn tea, and homogenize them in terms of cost and quality.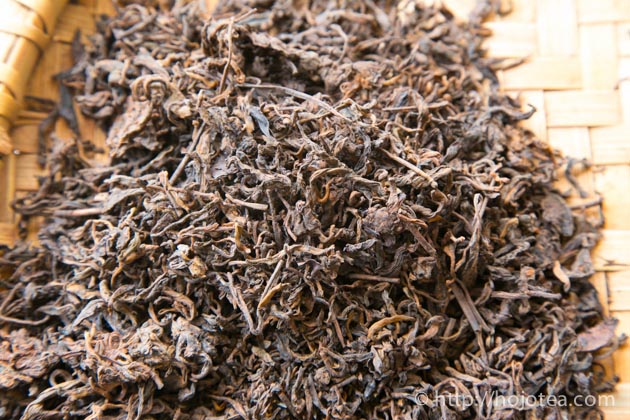 In terms of blending raw materials, not only pu-erh tea but also green tea, black tea, and oolong tea factories are making similar efforts.
However, the big difference is that ripe pu-erh tea is made by microbial fermentation, so the tannin that cause astringency are decomposed, and even if cheap raw materials are used, the astringency is less noticeable.
On the other hand, for green tea and black tea, it is easy to tell if teas are made from cheap materials. Those teas have strong bitterness and astringency, and the quality is low. In fact, raw pu-erh tea is also very astringent if it is made from cheap material.
No matter how cheap, ripe pu-erh tea will not be astringent even if it's made from late-plucked tea.
So, many people cannot judge the quality of ripe pu-erh tea, because even if it's made from cheap material it does not have the astringency.

Unfortunately, good quality ingredients in Yunnan are used in the production of raw pu-erh tea.
This is because good quality raw pu-erh tea can be sell at a much higher price than good quality ripe pu-erh tea. In that case, the question arises: Is the good quality ripe pu-erh tea available in the market?"
The reality is that there are only a limited number of good quality ripe pu-erh teas.

At HOJO, we only buy spring tea before blending. We repeat tasting of a considerable amount of tea and strive to introduce good quality.
As mentioned above, there are hundreds of types of ripe pu-erh tea on display even at airports, but the reality is that the real good quality tea is more difficult than finding good quality raw pu-erh tea.
What is the difference between good quality ripe pu-erh tea? You may think of ripe pu-erh tea as a musty tea. But, good quality ripe pu-erh tea will give you a certain level of excitement when you drink it.
The characteristics of a nice ripe pu-erh tea are listed below:
1. Even if it is brewed briefly, the taste is thick and you can feel the deep aftertaste. As for the flavor, it is not a light flavor that easily escape after drinking it, but the flavor travels down to the throat, with a sweetish lingering taste that lasts for a long time.
2. Well-fermented tea has a sweet flavor like dried fruits. Conversely, not well-processed tea has a musty smell like soil, natto, or old furniture. This bad odor is formed due to the poor control of the process, the failure in adjusting the right water content during fermentation the tea leaves lack of oxygen and subsequently formed the unpleasant flavor substances. 
Yun Xian ripe pu-erh tea was made from tea trees grown at altitude of 2000m high mountain. Even in Taiwan, the altitude of 2000m is regarded as the high-grade alpine tea. Due to the high altitude, the temperature gap between day and night is huge, and as a result, tea will give a thick aftertaste.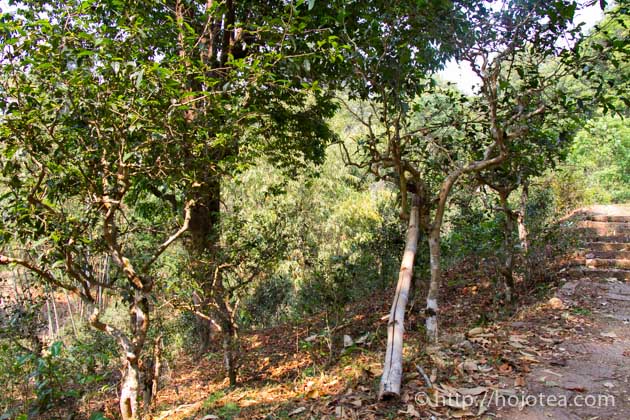 The arbor tea tree

Tea is produced in the western part of Yunnan Province, Lincang, Yun County. This area is also well-known as the production center of Yunnan black tea.
Lincang is generally producing good tea because of its northern latitude and the very high altitude of the tea growing area.

Yun Xian Ripe Pu-erh 2021 has a sweet fruity note like dried prunes and dried jujubes, deep aftertaste, and a smooth drinking sensation that lasts for a long time.

Good quality ripe pu-erh has a clear and bright hue. It has a soft and smooth drinking sensation. Despite the color looks dark, it is not bitter at all.


Because the tea is reasonably priced, I would like to say, "it is an everyday drinking tea." It has a deep aftertaste that is much deeper from the casual tea for everyday drinking. It is a high quality tea that can be priced much higher.
Yunnan sometimes has these bargains of tea. This tea has extremely high cost performance, so it is highly recommended for beginners of ripe pu-erh tea.
As the stock is limited, if you like the quality of this product, we recommend that you stock up more.