Using high-quality tea from Yunnan province, which is renowned for its exceptional quality, one can create a vibrant black tea that is reminiscent of Darjeeling tea.
This tea gives a bold and well-balance drinking sensation with a sweet sugary note that lasts on palate for a long time.
For the ordinary or common tea garden of similar altitude and growing conditions, both Yunnan and Darjeeling produces tea of comparable quality. But, for the leaves harvested from the ancient tea trees in abandoned tea garden, naturally grown tea gardens that serve as the raw material for premium Pu-erh tea in Yunnan are of an incredibly high quality that sets them apart from Darjeeling tea. Yunnan black tea, on the other hand, undergoes a shorter withering compare to Darjeeling tea, and is closer in character to Assam tea due to its deep fermentation. As a result, it has a mild fragrance and pairs exceptionally well with milk. However, I have long desired to create a luscious black tea that is reminiscent of Darjeeling tea by using the finest raw materials from Yunnan province.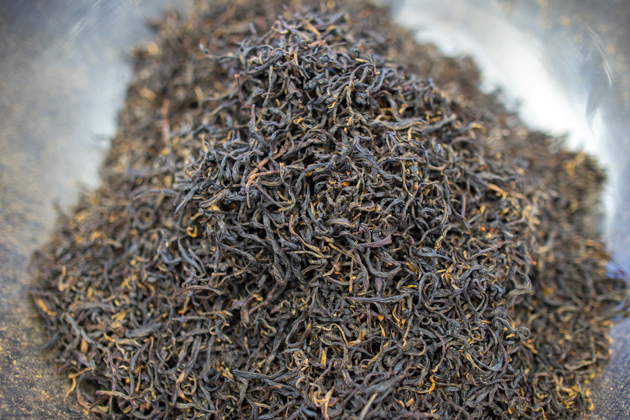 Yunnan Gong Fu black tea is made by using more mature tea leaves, 1 bud and 2-3 leaves, for withering.
Why is it called Gong Fu black tea?
"Gong Fu" is a term that has been misused in the Chinese tea industry in recent years. Originally, the term "Gong Fu" referred to Phoenix Dancong oolong tea from Chaozhou and Wuyi oolong tea from Wu Yi mountain of Fujian, both of which were influenced by the manufacturing methods of these teas. These teas are semi-fermented by applying withering and are known for their fruity and floral aromas. It is also important to enhance the aroma by low-temperature roasting the tea leaves at the end of the process. One of the most representative teas made under the influence of this manufacturing methods of Phoenix Dancong oolong tea is Lapsang Souchong. Keemun black tea, which is made by imitating Lapsang Souchong, and Darjeeling tea, which imitates Keemun black tea, can also be considered as types of Gong Fu black tea.
On the other hand, for general Yunnan black tea (Dian Hong), the withering time is short, and the semi-fermentation process is not involved, so I personally think it is inappropriate to call it "Gong Fu black tea." However, in reality, as mentioned above, the term "Gong Fu" sounds good, and is being misused for all kinds of black teas.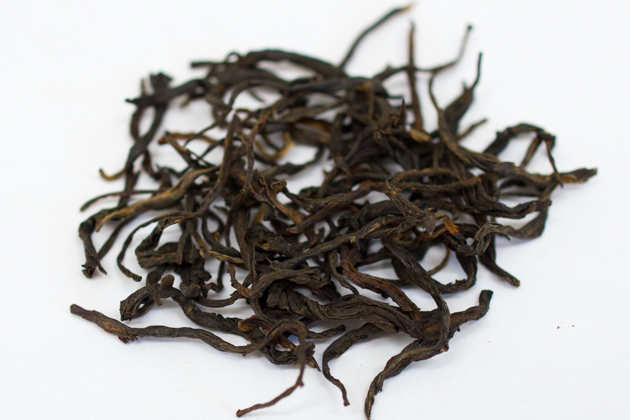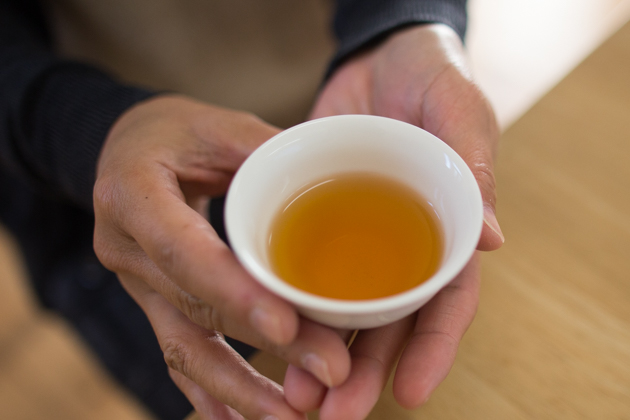 Producing richly aromatic black tea by innovating the withering method
To execute this plan, the key point is to emphasize withering and enhance the floral fragrance through semi-fermentation. In developing this tea, we tried various methods of withering. As Yunnan Province lacks equipment, we initially considered using a bamboo basket to spread the leaves indoors for withering. However, the results were not favorable, so with the consent of the producers, we designed a withering chamber and made it efficient by blowing air through it, which is similar to the way Darjeeling does it. By withering for a longer period, we were able to create a tea with a vibrant fragrance, like Darjeeling Autumnal black tea. The tea leaves have a reddish color due to the thorough withering. However, the tea we used was an extremely high-quality first-flush of spring, so in terms of depth of flavor, aftertaste, and fragrance, it became a tea that is on a different level than Darjeeling Autumnal.
In the future, we aim to further review the withering method and continue to develop a more unique tea. Nonetheless, we are satisfied with this year's tea, as we were able to make it skillfully, and personally, I am pleased with the outcome.
Most Yunnan black tea comes from managed tea gardens in Feng Qing County.
Yunnan black tea is also known as "Dian Hong" in Chinese. "Dian" refers to Yunnan province, and "Hong" refers to black tea. In other words, "Dian Hong" means black tea produced in Yunnan province. Most Yunnan black tea (Dian Hong) is produced in Feng Qing County, which is located in Lincang City. If you receive Yunnan black tea or Dian Hong labeled as a souvenir or purchase Yunnan black tea produced in a Chinese tea specialty store, mostly it is from Feng Qing.
Feng Qing County has a high proportion of Han Chinese, which is the opposite of other areas in Yunnan Province where ethnic minorities are the majority. In Yunnan Province, tea gardens with a long history, particularly those with old trees, belong to ethnic minorities. Conversely, many tea gardens owned by Han Chinese are newly developed. The tea gardens in Feng Qing for black tea production use columnar cultivation, similar to those modern tea garden in Japan, Taiwan, India, and Sri Lanka, and the tea trees are not particularly old. The altitude of Feng Qing County is mainly between 1500-1600m, which is relatively high compared to other black tea producing areas. As a result, the quality of tea is considered to be medium to high.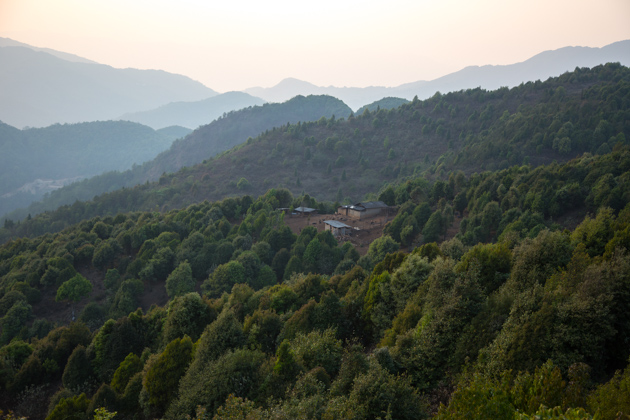 Tea bushes are growing mixed in with shrub-lands.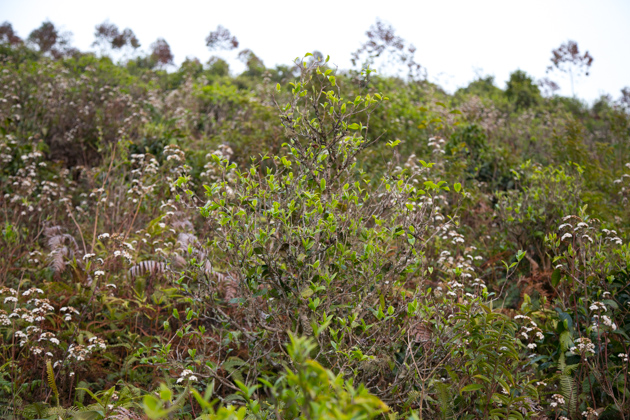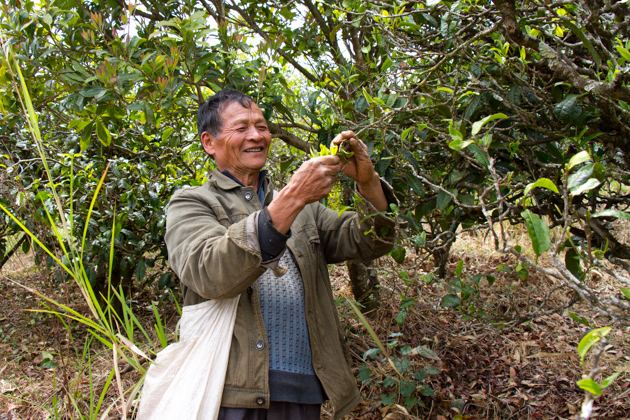 This is a description of the process of making high-quality black tea using top-quality raw materials that are typically used to make Pu-erh tea.
In the search for high-quality raw tea leaves, the tea garden in Feng Qing, which is well-managed in a modern style, was not chosen. Instead, a natural, high-elevation tea garden in Zhen Kang County at an elevation of 2100-2200m was selected. The tea garden is owned by the Yi minority and consists entirely of trees that are over 100 years old and have become semi-wild. The higher the elevation, the older the tree, and the less fertilizer is used, the higher the quality of the tea. The common factor in these three elements is that the tea grows slowly. Slow-growing tea leaves are rich in polyphenols and minerals, resulting in a strong aftertaste, a long finish, and a rich, smooth flavor that lingers in the throat. These high-quality tea leaves are usually processed into Pu-erh tea in Yunnan Province because high-quality raw materials are more valuable when processed into Pu-erh tea and can fetch a higher price. However, we have managed to keep the purchase price low by sourcing directly from the farmers who own these gardens.

 
The mystery of tea that produces fragrance when attacked by insects!
In those tea gardens which were abandoned for a long time, the condition of the tea gardens turn wild, and the tea leaves coexist with various plants and insects, so it is inevitable that insects such as leafhoppers suck the juice from tea leaves. However, tea leaves that have been attacked by insects produce a defense substance called terpenes to resist the insects. Interestingly, when such tea leaves undergo fermentation, they transform into a substance that emits a sweet fragrance like honey.