This tea is made from one single old tea tree aged about 250 years old. It is grown at high altitude of 1000m in Tou Ya Village in Phoenix Mountain.
Gui Hua means osmanthus flower. Gui Hua Oolong or Osmanthus oolong is a popular tea in Taiwan and China, it's made from oolong scented with fresh osmanthus flower.
And, this is a Phoenix oolong that gives a natural osmanthus fragrant and this tea is not scented with flower at all.
In fact, there are a number of teas that have been scented, even when it comes to Phoenix Dan Cong Gui Hua Xiang. Those scented teas gives a strong scent on dry tea leaf, and the scent faded drastically during second brewing. In fact, even if we are sourcing tea locally in Phoenix, we often came across with scented Phoenix Osmanthus oolong.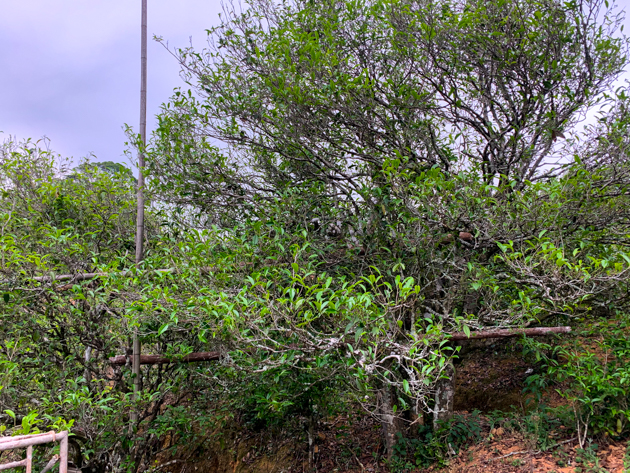 This is the tea tree of Gui Hua Xiang Dan Zhu (single tree tea).

Of course, this product is not a scented tea. It's the characteristics of this particular cultivar, and with the skill of the tea maker in mastering the fermentation steps, the tea itself forms a scent like osmanthus flower. It is such a rare tea.
In the past, I have tasted Gui Hua Xiang many times, but in most cases, it was just a name, and there was very unnoticeable extent of osmanthus fragrant.
This product has a very strong scent of osmanthus. When I tasted it for the first time, I was so surprised by the intensity of the osmanthus fragrant that travels deep down my throat and then it lingers for a long time on palate. Although it is an expensive tea because it is a single tree tea, you can experience the real osmanthus fragrant.